Whiteheath School
Whiteheath School | Whiteheath Avenue Ruislip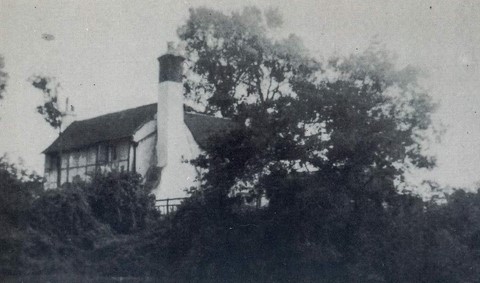 (Opening comments from a Ruislip, Northwood & Eastcote Local History Society publication from 1992)
(Image: Southcote Farm which was on the site now occupied by the school)
FOUNDATION AND EARLY YEARS
Whiteheath School opened as Ruislip Common JMI (Temporary) School on 25th April 1938, in the Wallis Memorial Hall at Ruislip Common Methodist Church. It began with 12 infants under the charge of Miss E.J. Andrew, who remained headteacher until 1952 and guided the school's development from one class in borrowed accommodation to six classes on a permanent site in Whiteheath Avenue.
The school quickly increased in numbers and a second class was formed in August 1939, there being about 50 on roll. The school's vicissitudes during the war years are described in Chapter 6. Children from the Ruislip Common, Ladygate Lane and Bury Street areas, who had hitherto attended Lady Bankes or Breakspear school in Ickenham, joined in October 1941. Two new classes opened not at the Wallis Memorial Hall, but on the already crowded Manor Senior's premises on Eastcote Road. One of them was set up on the stage, which was partitioned off from the assembly hall, while the other moved into a staff room. Miss Cornelius and Miss McManus (later Mrs. Sheehan) taught the two displaced classes, but Miss Andrew was in control of this detached part of the school. She had 138 pupils altogether.
New buildings were obviously essential to accommodate the growing numbers of children moving into the area and life in the Wallis Memorial Hall had other drawbacks apart from overcrowding. When funerals took place at the chapel it was sometimes necessary to move the children. On 13th February 1946 they enjoyed a nature ramble whilst the chapel was used for the funeral service of Mr. H. Lavender.
WHITEHEATH SCHOOL
Ruislip Common School closed on 28th March 1947 and opened again as Whiteheath JMI School on 17th April in two huts on Whiteheath Avenue. There were two rooms in each hut giving room for four classes and 173 on roll. Later in the year a dining hall was built, but was used for an extra classroom instead and dinners continued to be served in the classrooms. In September 1949 a new infant hut was put up, which freed the dining hall, henceforth used for assemblies, P.E., country dancing and dinners. There were now six classrooms, a hall, a headteacher's room, staffroom and storeroom.
A report of an inspection which took place in October 1950 speaks highly of the headteacher's work during the ever changing conditions of the last few years and of much of the work being done by teachers, but suggests that as all the children appear to come from good and interested homes and were bright, they wer perhaps not being sufficiently stretched.
Mr. R. G. Humphreys became headteacher in 1952 after Miss Andrew's retirement and remained for 25 years. He was with the school during a period of great expansion. The first proper new buildings (as opposed to huts) were a hall and staff room erected in 1966. In the early 1970s increasing numbers led to temporary classrooms being placed on the site until new classrooms were ready for opening in 1973. The juniors moved into them, leaving the old 1940s huts for the infants. A new playground was laid out at the same time.
Mr. Humphreys retired in 1977 and was succeeded by Mrs. Jones who came from Lady Bankes and stayed until 1989. Mr. Harmer who was already teaching at the school became head in January 1990.
In 1979 the infants were able to move into a brand new school of their very own, on a separate site further west along Ladygate Lane, with Mrs. Brenda Gibson as the first headteacher. She left to take up a new post in Harrow at the end of the summer term 1990.
Whiteheath School/-
Some comments from visitors to the web site
I was at Whiteheath from 1968 - 1974. Having recently posted onto the St Nicks old boys (SNOBS) site, my search engine picked this one out.
Funnily enough, I was going through some old photos recently following the recent death of my father and I found some of school plays I took part in. I recognised Alan Chanter immediately, who used to live in Fairfield Avenue (as well as me) and I kept in touch with Mike Foster for many years (he even attended my wedding 19 years ago!), but we eventually lost touch. I now live near Southampton, but still occasionally visit Ruislip, where I have fond memories of visiting Glacier swimming pool on Ladygate Lane in particular. That place closed in '79 and there is now a housing estate where it once stood. Guess nothing is sacred any more!!!!
Like one of the other posters, I had Mrs Cottrell as my first teacher at Whiteheath. I also had Mrs Pudney, Miss Down (who left to get married - she could draw brilliant chalk pictures!), Mr Ablett (who was fun!) and Mrs Guest. I also remember Mr Bettington the old school caretaker, as well as Mrs Page and Mrs Archer who used to run the old playground duty. The old memory is still sharp - past forty and not turning senile yet!!!!
Jim Wilkins.
---
I attended Whiteheath Academy in 1961 or 1962, when I was 5 or 6. My father was a US Navy enlisted man and we lived in Ruislip. I have few memories of Whiteheath except that the bathrooms were outside, and the wall between the girl's and boy's bathrooms didn't go all the way to the ceiling, so we could throw things across to each other! I also remember that we grew watercress in sponges in the window sills, and had watercress sandwiches when the "crop" was ready! I still have my blazer and hat, with the school crest and motto "Its how you play the game". In 1994, while stationed in Germany as a US Air Force officer, I visited Ruislip, saw our old house and looked, albeit from a distance, at Whiteheath. Although I have few detailed memories, I have a general impression of liking Whiteheath, and Ruislip. My best friend lived next door to me at Ravenscourt Close and her name was Jennifer. I now live in Colorado Springs Colorado, USA
James Arnold
---
I am the son of a USAF officer, and we lived in Ruislip - I attended Whiteheath School from 1970 to 1972. Mrs. Cottrell was my teacher for the two years I attended - heh, no I wasn't held back. I was 4 and 5 years old when I went to dear old Whiteheath, and of course I remember it fondly.
I don't have any of the old uniform, but I still have my green duffel bag that I used to carry my sneakers. I recall a great deal about the school - eating family style with two older children in the lunchroom. Field day! I won a blue ribbon in the sack race. The English girls could not have been more charming, even to a kid who is not supposed to have been old enough to be vulnerable to such a thing. Does anyone here know Jackie Silver or Karen Murdock?
For years, after we left Ruislip, I continued to have dreams about the place, and of my old friends. It would be a small miracle to find out what what any of them have got themselves up to.
I am now living in Southern California, and would be glad to hear from anyone who also attended Whiteheath.
Andy Mays
---
I noticed the names Sian Tuohy, Maria Sawides and Gemma Richardson on the friends reunited website. I was at Whiteheath for a couple of years from about 1988 to about 1991 (only approximate) and I was in a Xmas play where i was a child with a present for some reason. My best friend at the time was called Gemma and she had blonde hair. I was also friends with a Sian and twins called Anna and Maria. Does anyone remember me? My mother was a teacher in the school (she taught class two if I remember rightly) and was (obv) called Mrs. Scott. I have a highly amusing photo of their Xmas play to refer to.
Fiona Scott
---
This was my first School in 1949. I remember Alan Mac Clockman most likely the wrong spelling, and Janet Marsden a pretty blond girl who I was hopelessly in love with. Mr Humphreys the head master and Mr Snelling a tall balding thin gent, always in a dark suit. Playing one of the shepherds in the nativity play held in the dining room and hearing "Rock Around The Clock" for the first time at a class room party.
Best wishes to you all, I hope your life has been a happy one.
Allen Nunneley
---