The Windmill Ruislip Manor | Now gone
The Windmill Ruislip Manor | Closed 2006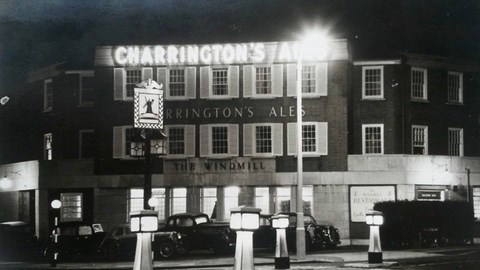 The oldest pub in Ruislip Manor, which given that it was built in the 1930's means very little. The Windmill is a handsome building which stands on the corner of Pembroke Road and Windmill Hill, or, putting it another way, right by the traffic lights at the top of Ruislip Manor.

Up until early 2002 The Windmill was a pub that "got by". It was never busy, seemed to have a different person in charge each month and internally was, decoratively, a disgrace (especially the gents loo). But it offered live football on a big screen, real ale occasionally and sanctuary from the bun-fight at Moons nearby.

However in early 2002 came the final nail in the coffin for the "old" Windmill, the manageress, allegedly, did a runner with the takings (all £33 of them?). A temporary manager came in whilst it was decided what to do with it, and it was decided to spend a few bob on the old girl.

The pub closed down for about two months and was "refitted". This refitting included making the bar itself slightly smaller, new gents loos (hooray!) and giving the inside a total makeover, or to put it another way, painting the lovely oak panelling orange!

Don't get me wrong, it looked fine then but I suspected in a few years it would look either scruffy or dated, and those old 1930's panels have been lost forever.

Now part of the Arena Sports chain it offered live sports on around 10 TV's dotted around the bar and late night entertainment in the form of either live bands or a disco. There were staff on the doors with accurate watches.
---
UPDATE
Just four years later, in September 2006 it closed its doors for the last time, and was demolished in July 2007 at exactly the same time as the old Crown Buildings office block more or less opposite. You see the Windmill has a car park, and that was now valuable real estate, so now a large block of flats stand there, and across the front (so under the flats) is a 24 hour gym. I bet living above when folk are dropping medicine balls at 3 in the morning is fun!

Where was is, by road?

Find the traffic lights at Ruislip Manor and you have found it.
---
The Windmill Ruislip Manor | Flats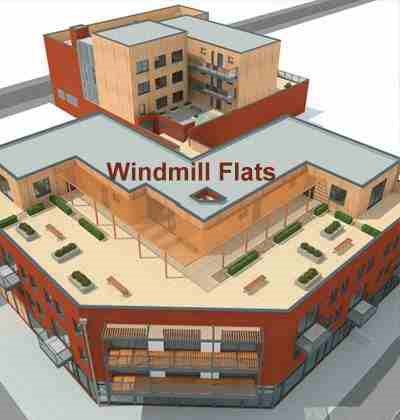 Comments

The Windmill used to be a bit upper crust in 50's, waiter service in the lounge and bar staff who would put on a posh voice when serving, but forget to keep it up when talking among themselves. We lads would get plastered there on new years eve, when the pub would be busting at the seams.


The Windmill Ruislip Manor | Demolished 2007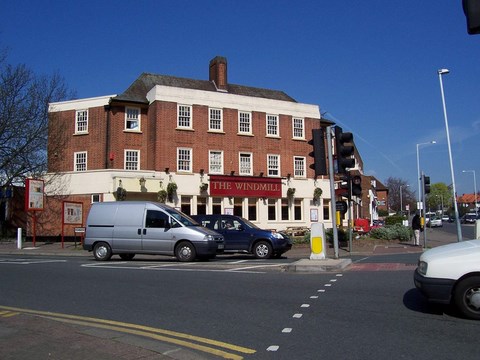 I worked behind the bar at the Windmill from 1957 to 1961. It was part time for me, weekends and couple of evening a week. I was just 18 when I started and to me it was fantastic. I had never been inside a pub before and a little shy, that did not last long. In the lounge the "free" ladies stood at the bar, just inside the door, and other interesting groups had their "territories" - there was always something intriguing going on. I was very happy there, only left because I started to earn good money in my real career, and moved to the Midlands. Steve Porter was the owner and he was a pioneer as he was the first to serve food in a Pub outside London, and it was an instant success.

Very happy times for me, I still talk and dream about the Windmill to this day.

John Brindle
---
---
Did you know that there are actually five web sites in the Ruislip Online group when Ickenham Online is taken in to account..

Brief details are show below. Some of the web sites are very large!


So, as well as the one you are looking now which is mainly historical pieces below are some other web sites about Ruislip that may interest you.