The Orchard Ruislip
The Orchard Ruislip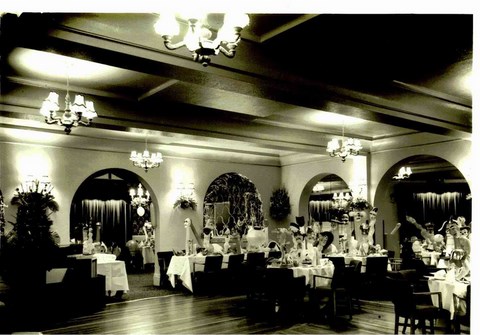 Another pub with an interesting history, though not one I am fully conversant with - so offers of information gratefully received! The Orchard "Bungalow", as it was called originally, was founded by Alice Elizabeth Raymont (nee Cross) with the assistance (financially) of one of her brothers. She sold it sometime in the early 1920's. From 1933 to 1977 it was a restaurant run by the Ansells family, and from 1977 it was what it is now, part of the Beefeater chain.

At some time in the 1930's it was rumoured to be a brothel, and at another time a home for a mistress for one of the royal family....or is this the one in Harefield? What is not in doubt is that it was used for accommodation during the second world war for Polish airman and a wonderful statue in memory of this was unveiled in the nineties in the front garden of a fighter plane on two slender mounts, all in steel. So wonderful was it that somebody pinched it one night, and it has never been seen since. A replacement was commissioned.

Prior to being a Beefeater, when run by the Ansells, it was the local restaurant, where ties were obligatory and a three piece band played in the corner. Ruislip's very own version of the Savoy, with prices to match...well nearly.

It was in the early 70's that it was "modernised" inside and made in to more or less the layout as it is today. Inside the spacious interior was, in the 70's, made in to a "village", with a "green", and lots of "houses" around it. Sounds very unusual and in its day it was, it has since been copied as an idea, but possibly never bettered. The green had a large table on it, the houses smaller ones, so when you ate you had your own intimate room, (and has it been there before?). It did make the whole place a little claustrophobic and so was opened out somewhat a little later and then all the little houses were taken away and it became "normal"...which was a bit of a shame really.

It attracts a wide age range and unlike most of this type of pub/restaurant arrangement still manages to be a real pub and not just a restaurant.

It is a place well worth a visit, on a revisit if you have not been for a while. The small garden at the front is well kept, but not secure for children to play in.

A memorial dedicated to the Polish Airman that served at RAF Northolt was erected outside the pub in 2006, to see pictures of it go to the Polish War Memorial page

Where it is, by road

It is on Ickenham Road, which leaves Ruislip High Street at the crossroads in the centre, towards Ickenham. The road turns a left hand bend at its junction with Church Avenue and the entrance to the car park is just after it on the right.. Alternatively, from the traffic lights in Ruislip, head up Kingsend towards Ickenham and at the roundabout take the fourth exit (almost a u-turn). You pass alongside a hedge in front of the pub and the car park is on your left just after it and before Church Avenue.
Below are a whole load of images I have collected regarding this pub, some are unique to me having been provided to me by a relative of The Ansells.

It has such a history, but now it ticks around as a Beefeater Restaurday and, to the rear, a Premier Inn.
An amusing tale
I remember in the 80's it was used as the venue for 'eyeballs' for CB'ers. I distinctly remember one of those evenings being themed for vicars & tarts. A (visually impaired) friend of mine, sadly now passed away, and I went as vicars.
Well, me as a vicar in a two piece suit, complete with grey shirt and homemade (and pretty convincing) dog collar, and him as a... well, not sure really, but it involved a long gown that was split up the back that would occassionally reveal stockings and suspenders!
The looks that we both got (mostly from older people) whilst we were standing around drinking pints was priceless.
Not to mention the fact that when we left, we did so such that my friend being visually impaired was half a pace behind me and to one side or another just touching my elbow, and this would allow him to walk confidently knowing that all the obstacles had been accounted for and advised upon; steps, low beams etc. Happy days.
(Mark Crow)