The Middlesex Arms
The Middlesex Arms South Ruislip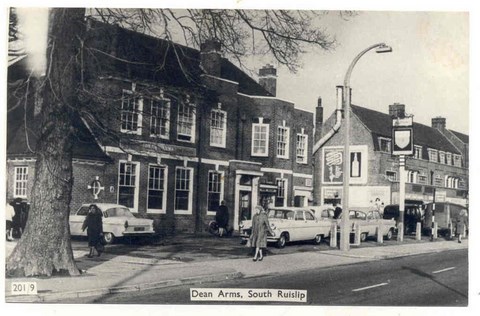 30's built pub in Long Drive, South Ruislip. Actually if asked most locals might say that this pub is in Station Approach. Confusingly the name of the road changes from this to Long Drive at the railway bridge close to the pub and not at the traffic lights a few yards the other way.

Formerly the Deane Arms this pub was an establishment frequented by Ruislip's less desirables. In order to force them to drink somewhere else some bright spark decided that if the name of the pub were to change then they would move on to pastures new.

OK, so not only was the name changed but the image of the pub also, from a "local boozer" to what it is now, a large well run pub.

However, only as recently as August 2002 a local "bent" policeman was set up in this pub to supply undercover police with a cocaine in the car park opposite, so whilst the change of image may have helped its success was less than 100%! Maybe it should be the Middlesex (long) arms.
More recently (2015) it was taken under the Greene King brand.

Where it is, by road

The nearest landmarks are Sainsburys in South Ruislip or South Ruislip Tube station. If you can find the tube station this pub is just the other side of the (low) railway bridge. Actually in Long Drive (see above) it will be considered by many to be in Station Approach. "Station Approach" runs between West End Road and, more or less, the traffic lights at Victoria Road, South Ruislip (by Sainsburys), where this pub is at the Victoria Road end. There is a small car park to the rear, pay and display opposite and some street parking outside the shops.
The Middlesex Arms South Ruislip a few snippets
I fondly remember the Deane Arms as it was back in the mid 60s. I was about 13 or 14 at the time, A family by the name of Matthews used to run the pub, I used to hang around with the son Raymond and visited the pub most days with Ray after school. We used to get up to all sorts of things in the back shed we also used to watch TV a few nights a week. I used to work there after school every afternoon stacking the shelves with beer.

The Pub was a rough place but that didn't bother us as we were too young to go into the bar when the Pub was open anyway. We just used to look at the Motor bikes lined up in the car park and dreamed that one day we would have one.

I used to play guitar and when I was about 17, the band I used to play with used to play at weddings in the back function room. We had some good times back then and I've always wondered what happened to Ray and his family.

Roger.
---


I am pleased to say that I was one of the teenagers who drank in the Deane Arms in the days your article describes the customers as 'less desirables' (1970s)!

'The Deane' as it was fondly known (must be said in a Sarf Ryslip accent!!!) was a haven for under aged punters, many of whom attended the local comprehensive, Queensmead. It was here that the pupils and the teachers all drank and made a lot of noise together. Contrary to popular belief though, while there were literally hundreds of us crammed in there from Friday to Sunday having fun, there were only a handful of youths that caused a nuisance. Yes, there were drug pushers, but then the same pushers went to every other bar in Ruislip; they left the rest of us alone to drink and have fun!

The Deane provided a much needed meeting point in the local heavily populated community; there was no youth club (except the Boys Brigade club once a week, and you had to go to church to attend that!), so The Deane kept us all off the street. Most local teenagers were going in the back door in the 70s regularly from the age of 13 or 14.

But do you know what? Many hundreds of us turned out ok in the end… amongst my friends from the good old days many of us can read and write, and some of us even own our own homes. One or two of us might even be worth a bob or two, so it wasn't all bad, was it?!

Jan
---

Anything special?

Changed its name and there is a hotel right next door. Did have a bad reputation, it is MUCH better than it was, indeed it hardly gets a mention these days in the local papers.....

One of the finest singers England ever had, who tragically died at aged 31 after a fall, had a residency there. This singer, who sang on Led Zepplin IV with Robert Plant, found fame in many types of music, but mainly folk, she WAS "The Voice of an Angel" Miss Sandy Denny




It was used as the outside of The Nags Head in the Only Fools and Horses episode Miami Twice Part 1
---


(From a site visitor) In the 1960's the pub was visited one evening by Elizabeth Taylor and Richard Burton who were in the area for Richard's niece's wedding. Much to the surprise of all the locals. (And it is possible that on the same evening they also visited The Black Bull ROL)
---


I tended bar at this pub back in 1990. I was just a young girl of 18/19 when I was there. All the locals and staff were so very nice to me, even though I had no idea what the hell a lime shandy was when I started. I have fond memories of Carol, Norman, Ol' harry, Karen, & Andrew. Thanks to everyone for takin' in that little girl from Texas & teaching her how to pull a proper "English" pint. I still hold all those memories in high regards. Mucho Besos my British brothers & sisters! Rebecca
---