The Listen Inn Ruislip
The Listen Inn Ruislip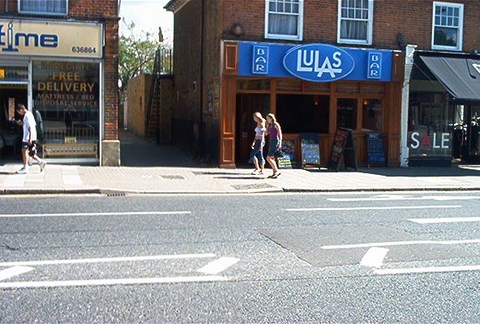 Once a shop, now a pub. Situated by the traffic lights in Ruislip High Street (Near the tube station), yet another establishment to change its name. Initially opening as Bar Lulas in 2004 it was refitted and changed its name to The Listen Inn, and surly there can be no better name for a music bar?

Inside the offerings include music most nights (sometimes live) and sports on two TV's. Refitted in 2004 it is a smart looking place, no doubt frequented by the young smart set. It is suggested that if you seek a quiet pint you avoid evenings at weekend!

Where was it, by road

At the southern end of Ruislip High Street, by the traffic lights.
---
After another refurb and name change it became The Crock Of Gold and finally and most recently it became
The Smugglers Cove
(correct 2020) a name with fits right in with Ruislip and no mistake.
---
Did you know that there are actually five web sites in the Ruislip Online group when Ickenham Online is taken in to account..

Brief details are show below. Some of the web sites are very large!


So, as well as the one you are looking now which is mainly historical pieces below are some other web sites about Ruislip that may interest you.