The Clay Pigeon
The Clay'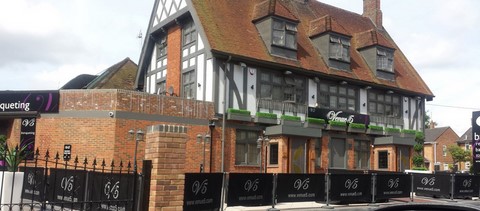 Once the site of "Eastcote Pavillion" this pub was built between the wars as were most of the houses locally.
From the Uxbridge & W. Drayton Gazette 26 May 1939
"New Tenants Come to Local Houses"
Transfers and other licensing matters were dealt with by the justices, who approved the naming of the new "Bourne Arms" in Field End- Road, Eastcote, at the corner of Whitby-road, as "The Clay Pigeon," and having heard that the premises were furnished and ready to open, the magistrates gave their final order."
It was built with both public and saloon bars and a small off-licence fronting on to Whitby Road. To the side was a "dance-hall" that in the 1960's hosted bands on a regular basis, some fairly famous, some on their way to being famous, some notorious (!) and some that seemingly never made it.
The dance hall is remarkable as it has a Grade ONE listed ceiling.
Like a number of pubs in the area things have changed for it and for a while it closed only to be reborn as Venue 446 (the number of the building on Field End Road) which was an Indian themed restaurant and more recently has become Venue 5, again with an Indian theme.

There has been at least one fire there. However, remarkably for a pub (!) this it seems was accidental and not suspicious.