The Breakspear Arms
The Breakspear Arms Ruislip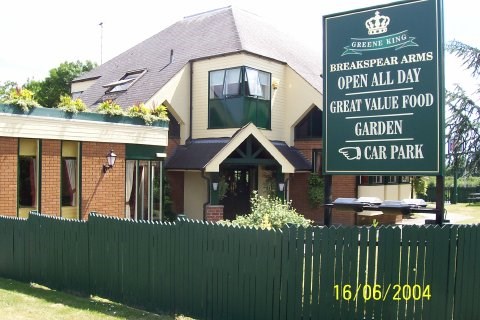 This was knocked down some years ago (around 1974) and this modern building built to replace it.

Initially this new pub did well, but a change in management and it began to decline. Since its opening heydays it has had trodden a somewhat interesting path.

At one point the interior was made to look a bit like a night club, indeed it even had a dance floor, but the success of that was short lived, mainly because it was refused a late licence. It was at this time that it suffered it's biggest identity crisis. But unlike other pubs locally that have changed their name only to change them back again (see The George) this pub kept its name but changed its names' roots!

The whole "Breakspear" thing in this area (well mainly Harefield) surrounds Nicholas Breakspear who, in 1154 found himself elected as Pope (the only Englishman ever to be so elected). As Pope he took the name Adrian IV. His short pontificate (he died on September 1st 1159, aged 59) is the reason for the roads named after him locally as he was thought to have been born in Harefield. (If you are reading this and live in Abbots Langley then I really know he was born there, at Bedmond Farm to be precise).

So the Breakspear Arms was was named after England's only Pope, but not while it was a "nightclub", at this time the sign that hung outside showed a spear broken in half, yet it retained its name when really it should have been the Break Spear Arms.

Having been changed back from a night club in to a pub again it has passed through a few breweries and once formed part of the Hungry Horse chain. It then went in to a private tenancy under " the stewardship of Darren and June and in about 2012 changed in to a "Gastro Pub" having been totally refurbished and now offers both Indian and English cuisine.

Where it is, by road.

On the outskirts of Ruislip. From the centre of Ruislip follow signs to Harefield/Rickmansworth (or Breakspear Crematorium). These will take you on to Bury Street. Leaving Ruislip High Street the road climbs a small hill then descends in to a dip, there are houses on both sides and you will pass The Plough on your right. In the dip to your left is a petrol station (not to be confused with what was a petrol station on your right) and just before it a mini roundabout with a left turn. This is Breakspear Road, turn left here. Pass the crematorium on your right and follow this road to the end, passing The Woodman. The pub is on the right at the junction, turn right and right again to access the car park.
---
Did you know that there are actually five web sites in the Ruislip Online group when Ickenham Online is taken in to account..

Brief details are show below. Some of the web sites are very large!


So, as well as the one you are looking now which is mainly historical pieces below are some other web sites about Ruislip that may interest you.