Ruislip Travel Tips
Travel Tips for Locals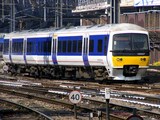 Buses

Please be aware London Buses do NOT take cash AT ALL. You can only pay by Oyster Card or Contactless Payment Card, where the actual fare is the same no matter which card you elect to use.

Oyster

Even if you are only coming to London (Ruislip) for a day if you plan to use public transport get an Oyster Card or use a contactless debit card (price is the same) without one, and paying cash, is much more expensive.

Interchanges

The Metropolitan line station at Northwick Park is only 600 yards from the London Underground/Overground Station at Kenton (and 114 bus stops). Exit the station turn right, first left, and at the end of the road turn right and you are there.

If you need to change between the Metropolitan line and Jubilee Line do this at Finchley Road, no steps and just across the platform.

Changing from Jubilee to Bakerloo lines is much easier at Baker Street as they're on the same level (Stanmore and Harrow platforms on the same level as are the Stratford and Elephant & Castle platforms).
If you wish to get to Paddington main line station from Baker Street take the Bakerloo Line not the Circle/HS Line. The walk at Paddington is shorter. If you are changing at Notting Hill Gate for the Circle Line the walk is fine. Paddington has in effect three tube stations.
You can walk from Lancaster Gate Station to Paddington Station. It is about a 10 minute walk.

The following "west London" stations can be walked between in a matter of minutes.

White City and Wood Lane
Hangar Lane and Park Royal
Northwick Park and Kenton
Shepherds Bush Tube and London Overground stations (handy to get to Clapham Junction)

If you are coming in on mainline services from the east and heading for Liverpool Street and need to access the tube, if your train stops at Stratford change there as it is a much shorter walk and can be done step free with lifts.

If you are coming in to Baker Street from Paddington direction on the Circle/Hammersmith and City lines and intend to change to the Metropolitan line there is a poorly signed passage that links through to platforms 1 & 2 where most trains towards Uxbridge depart from.

Speed

The Piccadilly line from Ruislip towards London takes forever, avoid it unless you are actually going to a station before it gets to say Hammersmith, other lines and a change could well be quicker.

If you are at Baker Street and want to go to Uxbridge get ANY "Fast" train to Harrow on the Hill and change there, it could pass an Uxbridge train on the way.

Get your timings right and The Chiltern Line in to London is faster than most, but it drops you at Marylebone. It is, however, only 500 yards to Baker Street station (out and left, then right when you come to a T junction). Oyster fares apply as far as West Ruislip on the Chiltern Line.

Unusual alternatives - you may have to get your timings right!!

To get from Ruislip (Central Line) to Paddington Main Line (from) from South or West Ruislip you could get the Chiltern Line to Marylebone and the Bakerloo Line to Paddington.

To get to Euston main line get the tube to Northwick Park, walk around to Kenton Station and get the London Overground to Euston, it drops you in the heart of the station. Alternatively get the 114 to Kenton from Ruislip/South Ruislip environs.

If you want to get the Piccadilly line from Rayners Lane and live in Northwood /Northwood Hills get the 282 bus to Eastcote. Saves loads of stairs.

Victoria Coach station is quite a hike from the Underground station. Two options to get better access are available:
Enter the main line station from the tube and bear right towards the platforms set back on the right. There you will see escalators going up to a shopping arcade. Go up them and walk through the arcade. At the exit you will find the worlds shortest down escalator to the exit. Cross the road and walk through the next shopping arcade (handy if its wet) and cross at the lights as you exit the arcade
OR
(and maybe to avoid stairs) get the Oxford Tube from Hillingdon Station as it stops very near to the Coach Station.

AIRPORTS

For the Thameslink line (for Luton Airport etc) go to Finchley Road (at the front of a train so near steps) and change to Jubilee line to go back one station (at the front - i.e. opposite end - of the train so nearer the exit) to West Hampstead. (Alternativly, and to avoid some stairs, change at Wembly Park to a Jubilee line train towards Stratford) It is a short walk to the West Hampstead Thameslink station... shorter now than it was before because the station entrance has moved.

For Gatwick get yourself to Farringdon on the Metropolitan line and change there for First Capital Connect trains which run around every 15 mins. Journey time about 45 minutes to Gatwick from there. (Check if travelling at the weekend as this service may not be operating Sat/Sun.)

For Heathrow a 140 bus from South Harrow will take you straight there (Terminals 1,2,3) BUT be warned as it takes over an hour (!) but is a cheap and "entertaining" journey. Alternatively get yourself to Uxbridge and get the A10 bus, but from Ruislip Station this tube/bus option takes just UNDER an hour. You CAN get the A3 bus from the same stop, but it takes longer.

Again for Heathrow, taking the Tube all the way with a change at Acton Town (and all the stairs that involves) takes about 1 hour 10 mins. If your luggage is really heavy try going to Hammersmith Tube and using the lifts to change back to the other direction on the Piccadilly line there, but add 40 mins to your journey time at least.
Bus 278 from Ruislip Station takes around one hour to get to Heathrow Central Bus Station. This bus does not stand at Ruislip Station, it comes in and goes straight out.

For Terminals 4 and 5 whilst there is a free shuttle bus from Terminals 1,2,3 (where the bus station is) the tube could be seen as best to get to the airport. National Rail run trains from Victoria but they are expensive and NOT covered under Oyster.

NIGHT BUSES

There is no night bus service to Ruislip other than on Friday and Saturday when the 114 runs.

Other nearby buses that run all night are:-

140 to South Harrow (Runs from from Wealdstone area, via central Harrow to Heathrow)

N7 to Northolt Station from Russell Square, Tottenham Court Road, Oxford Circus

Oxford Tube to Hillingdon from Victoria, Marble Arch, Notting Hill Gate and Shepherds Bush

A number of "Normal" bus services run out of Ruislip up until 00.30 or 1.00 hours on weekdays. Check with TFL

NIGHT TUBE

There is no night tube at weekends to Ruislip. Get the Jubilee Line to Queensbury and a 114 bus from there. It will take a fair old while to get home mind!

To get OUT of Ruislip the last trains leave from Ruislip Station at 00.43 on Friday and Saturday and the Metropolitan Line connects at Wembley Park to the Jubilee 24 hour service and by changing to the Piccadilly Line at Rayners Lane you can connect to the 24 hour Piccadilly Line at Acton Town.

The last train from West Ruislip in towards central london leaves at 23.50 but you can get a bust from West Ruislip station to Ruislp Station and pick up trains later from there.

MISCELLANEOUS

There is something called Out of Station Interchange (OSI) which applies to pay as you go Oyster cards. It means that you can exit certain stations and enter another one within a set time and your trip will be considered one single trip.

Examples include:

Euston Square and Warren Street/Euston
Changing between Hammersmith's 2 separate stations
Tower Hill and the DLR at Tower Gateway
White City and Wood Lane
Hangar Lane and Park Royal
Northwick Park and Kenton
Canary Wharf Tube to then use the DLR from Heron Quays
Marylebone (Chiltern Line) and Tube Stations.

It now seems to apply between West Ruislip and Ickenham (1,200 yards appx)

The Transport for London website has a page about their 'Travel Mentoring' service for people who have problems using public transport alone. On there too is the travel planner, with the 'advanced options' allowing you to plan journeys without having to use stairs, escalators etc:

Traveline has a similar page which also shows network rail and buses to allow longer journeys within the South of England to be planned:
There are actually four web sites in the Ruislip Online group plus
Ickenham Online
So, as well as the one you are looking now which is mainly historical pieces below are some other web sites about Ruislip that may interest you.