Second World War
V.J. Day Party Elmbridge Drive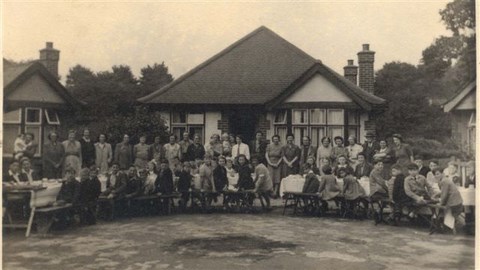 I have just come across this old photo (left) of a V J Party taken in 1945. It was at the end of Elmbridge Close as you can see we had a bonfire on the road a few days before, I was ten years old at the time. There was a footpath which led to a narrow lane which ran down beside our house to the Ruislip or Eastcote Tennis Club. I left Ruislip when I was sixteen my parents moved to Cornwall, where I have lived ever since. It was most interesting to see the photos of the MOD Buildings, also to learn something of what went on there, we used the footpath when we were going to the pictures or shops in Eastcote as I remember it cost us 7d or seven old pennies the cheapest seats of course. Also the photos of Highgrove House which was opposite our house we used to go across the field there was a moat in front of the house where we caught newts, we scrumped apples from the orchard and at the bottom of the garden was a large pond where we caught water snakes. during the war we followed barrage balloons that broke loose and collected shrapnel and bullets that could be found after most raids. I also have many memories walking across the common and through the woods to the Lido we even skated on it during the winter.
---
Some pictures below from Ruislip and the second World War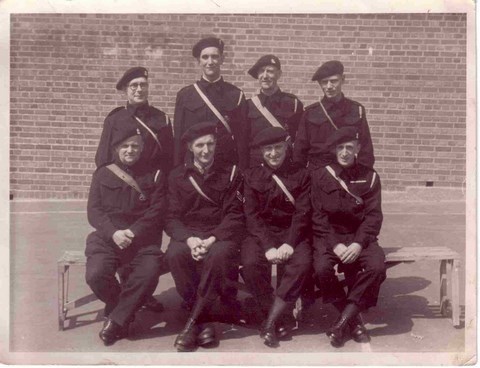 Here is a photograph of a group of A.R.P. Wardens taken I believe in about 1940. They manned Post K4 which was situated in the field off Beverley Road, Ruislip Manor (I think it is now a school site and may have been called Bessingby Road playing field). My father Herbert Henry Hunt is at the left of the photograph on the back row, but I do not know the names of the other men (the warden top row second from the right has since been named as Sidney Chapman).

At the outbreak of war in September 1939 there was no telephone at the Warden's post and as we were one of the few families in Beverley Road to have a telephone and my father was an A.R.P. Warden living near to the A.R.P. Post, all calls warning of air raids were to have been made to our home. There would have been an amber warning for approaching enemy aircraft followed by a red warning for an imminent attack. On receipt of the amber warning I had to run to the Warden's Post to tell them to get ready to sound the warning siren and when a red warning came through I had to run to the Post again so that the siren would be sounded. Fortunately this arrangement lasted only a short time before the Warden's Post was connected to the telephone and I did not have to carry out this duty.
(Derek Hunt)
---
Memories from an ARP Warden
Post H4. This was initially a sunken structure on the triangle at the intersection of Manor Way with Midcroft but was moved later to an above surface shelter on the green where West Hatch Manor and Manor Way meet. I have an illuminated address prepared in ornate calligraphy by one of the wardens that was presented to the Misses Cook. It reads as follows:

"THE WARDENS OF H4 POST, WISH TO PLACE ON RECORD THEIR GRATEFUL THANKS & APPRECIATION, TO THE MISSES COOK, OF 51 MANOR WAY, RUISLIP M'DSX, FOR THEIR GREAT KINDNESS & GENEROSITY, IN SUPPLYING COFFEE, SANDWICHES & CAKES, ON EVERY NIGHT THAT THE POST WAS OPEN FROM THE OUTBREAK OF WAR WITH GERMANY ON SEPTEMBER 2ND 1939, UNTIL THE STAND DOWN OF THE CIVIL DEFENCE SERVICES ON MAY 2ND 1945.

J.C. Lewis (Post Warden), R. E. Williams (Deputy Post Warden), H. E. Browne, E. L. Bruguier, P. G. Edwards, J. A. Fuggle, A. E. Green, G. N. Green, W. F. Hall, F. Keane, W. Scott, J. A. Scrivener, F. D. Simpkins, A. V. Thurston, H. B. Watts, H. Williams, F. Winton.

I remember the Misses Cook clearly, and some of the Wardens named.

The address measure 10 by 12 inches and is illuminated in colour and gilt. I don't recall which if the wardens executed this work but do recall one of them was a draughtsman, Scrivener perhaps?. I inherited the address in its present, original frame. It hangs in our front hall so the patriotic efforts of these two ladies is not forgotten!
(Derek Hunt)
---
More Pictures of Ruislip from World War II
There are lots more pictures
here
including some of VE and VJ Day parties and of the Ruislip Home Guard (and can you spot where some were taken - as we cannot!).