Ruislip High School
Ruislip High School | Ickenham Road Ruislip
(Opening comments from a Ruislip, Northwood & Eastcote Local History Society publication from 1992)
(It should be noted that more recently another school with the same name and no connection was opened in Sidmouth Drive)
RUISLIP HIGH SCHOOL:
"Waitara", 12 Ickenham Road, Ruislip and at
"Dunhoime Lodge", 21 King Edwards Road, Ruislip
---
Ruislip High School | Ickenham Road Ruislip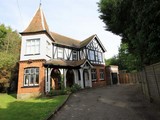 This school was opened in 1935 by Miss V. M. Beesley, a qualified teacher of commercial subjects, at a house called "Waitara" in Ickenham Road, adjoining the Rivoli Cinema (the site of the latter being occupied later by Sainsburys supermarket and more recently The Thomas More Building (Flats)).

In local guides of the 1930s, it was referred to as the "Ruislip School of Secretaries", and it is unclear whether or not it also catered for young children at that time. In fact, the earliest reference to the name "Ruislip High School", which has so far been discovered is in a Ruislip Chamber of Commerce Guide of 1949, and certainly by then, it was advertised as a kindergarten and preparatory school with the school for secretaries incorporated.

By 1949, the school also had the use of "Dunhoime Lodge" at 21 King Edwards Road. It is not entirely clear whether this was merely a temporary use, because the premises in Ickenham Road had suffered war damage, and were still awaiting repair, or was a more permanent arrangement, because the school required further accommodation.

Some Ruislip-Northwood official guides of the 1950s continued to give the school's address as Ickenham Road, although Kemp's local directories of that period either list the Ickenham Road premises as vacant or not at all From the early 1950s onwards, according to Kemp's directory, "Dunhoime Lodge" was occupied by Ruislip College.

In any event, Ruislip High School appears to have been in existence until the beginning of the 1960s. It is believed that Rosedene Court, a block of flats is built on the site of the school in Ickenham Road.
---