Ruislip's FORMER Ghost Trains
The Ghost Train from South Ruislip to Paddington
This service, operated by Chiltern Railways, ran from South Ruislip to Paddington leaving at around 11.00 am.
Below is my memories of using the service and a video (not filmed by me) as posted on You Tube by Geoff Marshall going in the revers direct as far as West Ruislip.
---

Have a look at a London Underground map showing National Rail services and you will see that to get from South Ruislip to Paddington you either have to change trains at Greenford on to the "Pull and Push" and change again at West Ealing OR get the Underground to Notting Hill Gate and change there to the Circle line or Hammersmith and City line. There is no direct line doing that route.

Well I can tell you that today, 10th March 2014, at 10.57 I got a Chiltern Line train out of South Ruislip on a non-stop direct route to Paddington, paying using my Oyster Card.

The trip did not get off to the best of starts as I waited at the London bound Chiltern Line platform only to discover that it actually leaves from platform three at South Ruislip, a platform normally serving trains going OUT of London, so a hasty change had to be made…..

The train route runs alongside the Central line as far as North Acton and then joins the main line from the west in to Paddington just beyond Acton Main Line station.

Unsurprisingly apart from me and my wife the only other people on it were the driver and his mate.

This train is one of a handful of "Ghost" or "Parliamentary" trains that run up and down the country which have to operate to stop the actual line being closed permanently and the fact the line is used at all means Network Rail have to maintain it.

So, if you are going up town on a Monday to Friday from South Ruislip at around 11 am, next time, get a train all to yourself from South Ruislip. It is possible that the return leg, that was the 11.36 back the other way from Paddington no longer runs, either way do check online before you plan to ride on this service, or that going up to Paddington.




The service was replace by the one below



The Ghost Train from South Ruislip to Paddington
The video below is a "Cab Ride" from West Ruislip up to Paddington on this (old) service.
The Ghost Train from South Ruislip to West Ealing
With the coming of The Elizabeth Line the service and HS2 the service was changed to South Ruislip to West Ealing and later one way West Ealing to WEST Ruislip, then that stopped and it rumoured to have been replace by a "Rail Replacement Bus"
The Ghost Train from West Ealing to West Ruislip
So here it is, a video of the very last "Ghost Train" from West Ealing to West Ruislip, to be replaced by a "Ghost Bus!"
The Last Ghost Train from South Ruislip to Paddington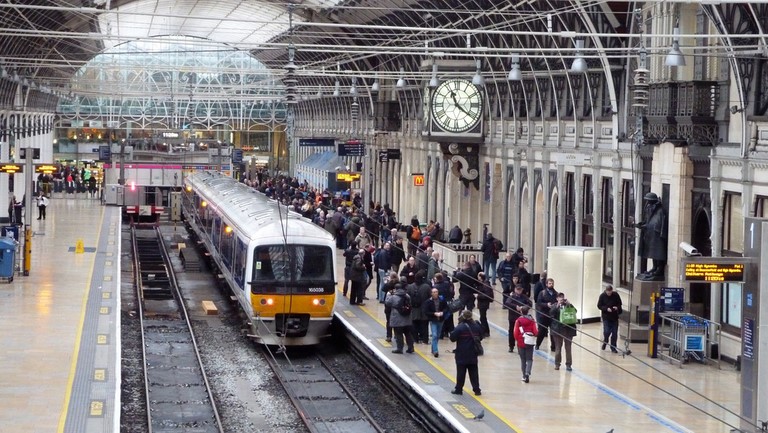 On the very last journey for the Ruislip Ghost Train (The service ending due the building of the Elizabeth Line) it came in to Platform 1 at Paddington to be surrounded by railway enthusiasts.