Rivoli Cinema Ruislip
The Rivoli Cinema in Ruislip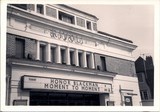 The Rivoli Cinema was opened on 30th September 1929 with Betty Balfour in "Champagne", directed by Alfred Hitchcock being the first film shown. It was operated by the Charles F. Cheshire Group. The Rivoli Cinema had a 36 feet wide proscenium and also had a stage. The Rivoli Cinema also had a tea room for the the customers.

It was taken over by Shipman & King in 1935. They operated the Rivoli Cinema until it closed on 4th June 1966 with Jean Seberg in "Moment To Moment" and Don Knotts in "The Ghost and Mr. Chicken".

The building was later demolished and a Sainsbury's supermarket was built on the site. This was not a great success, as there were no car parking facilities, and it stood closed for longer than it was open. In 2001 a new block of flats was built on the site, the Thomas More Building (Ickenham Road).
---
---
Did you know that there are actually five web sites in the Ruislip Online group when Ickenham Online is taken in to account..

Brief details are show below. Some of the web sites are very large!


So, as well as the one you are looking now which is mainly historical pieces below are some other web sites about Ruislip that may interest you.