Polish War Memorial
The Polish War Memorial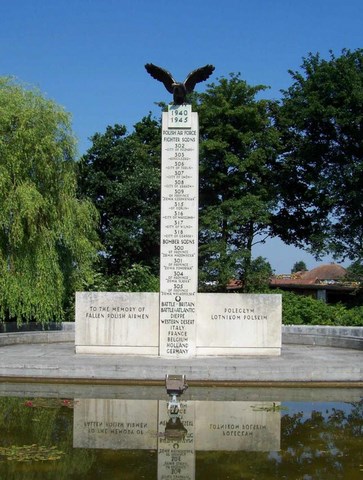 Note:- Clicking on images will enlarge, they are high quality pictures and therefore may take a while to load. This is to allow detail to be shown.
Perhaps one of Ruislip's best known landmarks and yet seemingly with no official page on the internet.
The Polish War Memorial is situated adjacent to the roundabout on the A40 at its junction with the A4180, just on the London side of Northolt Aerodrome. The roundabout is known, unsurprisingly, as the "Polish War Memorial roundabout" and is signed as such on the A40.
The memorial is here as during the second world war there were numerous Polish (and Canadian) airmen stationed at Northolt. The memorial was commissioned to commemorate Polish airmen who perished during the conflict.
The Polish War Memorial
Ruislip Online has been pleased to assist the owner of the web site
Polish War Graves
in compiling the only known definitive list of all those commemorated on this memorial. This involve my taking pictures of all the plaques and then e-mailing them to the owner of
Polish War Graves
who has then put them together as a typed, searchable, PDF file. Click on the link to view the site. Should the site not be available for any reason then a list of names may also be found
here.
Orchard Hotel Memorial
A memorial has also been erected outside The Orchard public house in Ruislip, to commemorate the Polish Airman that served here during WWII. Pictures of it are shown below.
---