Gateway School
Gateway School | 7 King Edwards Road, Ruislip
(Opening comments from a Ruislip, Northwood & Eastcote Local History Society publication from 1992)

THE GATEWAY SCHOOL: Methodist Church Hall, Ickenham Road, Ruislip.

Later at St. Martin's Church Rooms, Bury Street. Finally at 7 King Edwards Road, Ruislip

This school was founded by Miss Panter about 1939, because Kelvin House School in King Edwards Road was evacuated, and it was considered that there was a need for a private school to cater for those of its younger pupils who remained in Ruislip. Initially it was housed in the Methodist Church Hall in Ickenham Road. In 1944, the school was taken over by Mrs. Lambert and Miss Ridley, and moved to St. Martin's Church Rooms in Bury Street. A few years later, it changed ownership again when Mrs. Joyce Stevenson (later to become Mrs. Legoswska) took it over. In its earlier years, the school had catered for children from four to eleven years of age, with a nursery class for three year

---
Below are comments from visitors to this site

Gateway School was in Bury Street. It was situated next to the EMI factory near the River Pinn. Later it moved to King Edwards Road.

The lady who ran the Gateway School was Mrs Stevenson (not sure the exact spelling of her surname) she was married to a Polish man and had a son called Spishock (again not sure of the exact spellig). Later when the school moved to King Edwards Road in Ruislip that was their home too.

Comments from a former pupil....

As unlikely as this seems, I still have my Gateway Nursery School report from when I was 5 years old in 1957. It says that I have good control over crayon and scissors! The address is 7 King Edwards Road and the Principal's name is Mrs Joyce Stephenson, though my teacher's name it says is LN Wisely.

It was towards the end of King Edwards Road on the left (now turned into offices, though the building is the same).

I also remember the green 'tin tabernacle' in Bury Street near the River Pinn, made from corrugated iron. I think it was knocked down to make way for the Youth Club.

I remember being a pupil at the Gateway school in the early '50s. I recall I went there before joining Bishop Winnington Ingrams primary school when I was 5 in 1952. I had always thought it was a pre-school nursery. But I remember my father referring to it as "the old tin tabernacle".

I remember making patterns from woven strips of coloured paper, and big pots of poster paint.

I also remember not being able to get on with other children and feeling very unhappy there. It was that experience that was at the back of becoming a teacher and in later years working in special educational needs.

Does anyone remember that period of the school's life?


I too have old reports dating Autumn Term 1958, Summer Term 1958 and Spring Term 1959. I went there with my twin brother Nicholas Hammond and my name was Deborah Hammond. I remember sleeping after lunch at the school - not much else but the picture brought it back to me. I have tried to look up the Gateway School on Friends Reunited but could only find the Bishop Winnington Ingram school which was brilliant - one person had posted a photo with me and my brother on it! I wonder if we were there together?

Dates of birth 25th June 1954

Any info would be great

Debbie Hammond (Whymant)

I was a pupil at Gateway School around 1951 / 52. I used to cycle my three wheeler bike from King Edwards Road to the Tin Tabenacle in Bury Street. My friend John Young lived in Sharps Lane and also cycled to school. His tricycle had blow up tyres. I was jealouse as mine only had solid tyres. Next door was the EMI? electronics factory doing some secret work I always thought as security at the gate was always very sticky.We still have a photo taken at gym practice in the hall. John Youngs eyes are closed he was probably asleep. There was a giant paper mache mushroom there that the children could enter. We used to weave things with long strands of raffia. I was a milk monitor. The milk was delivered by Express Dairy in metal crates containing 24 one third of a pint milk bottles.In summer the milk was warm from being left in the sun.I can still smell that rancid milk left over on hot summer days. Any unused milk was used in the school kitchen. Both my sisters Anna and Janet went to the Gateway School but a few years before me probably in the late 1940's.

Patrick Davies. Perth Western Australia


Two friends, Doreen Manson and Ena Panter, living in Church Avenue Ruislip, started teaching a few children in Ena Panter's house. Reputation soon meant new premises were needed, so they moved to the Church Rooms in Bury Street, and the friends were replaced by Miss Ridley who had previously been a teacher in Kelvin House (King Edward's Road Ruislip). The Church Rooms ­ or the "tin tabernacle" as it was called was in the grounds next to and owned by the Vicarage ­ under the authority of the Rev Cornwwall Jones.

All local functions were held here so the school equipment etc had to be all packed away after every day. Children up to the age of 6 were taken and taught the 3 R's ­ plus games and physical exercise. At thhe age of 3 a child could go for a few hours one day a week. Milk was available for lunch break, but no afternoon school. When Miss Ridley retired a new headmistress bought it over ­ Mrs Munro ­ a mother of tf two children and a local resident. The school was by now well established and most local children went there before going to the newly build Bishop Winnington Ingram which was council-run and preparation for Manor Senior (secondary modern). Here pupils were prepared for their first exam called the Eleven Plus which decided the next stage. Pass that and many avenues were open ­ fail and it was Manor Senior.
Getting to school was either by walking or cycling so the children went locally (I can remember one girl came on horseback). There was no inspection by any officials, and qualification was not necessary. Teaching was dedicated, unstressed and effective, proving to be a sure grounding for future education.

In 1924 there were five schools in the Ruislip area:

St Bernard's (boys only) Poplar Close (Mr Squires)
Hawtrey House, Ruislip Manor (Mr Stimpson)
? Windmill Hill (Miss Territ)
? Ickenham Road (Miss Gundry)
Kelvin House, St Edwards Road (Miss Todd)
And later
Gateway School, Bury St (Mrs Stevenson)
---
I was very interested to see on the website the photo taken at Gateway School in 1952 above right. The little boy, third from right, sitting on the white handkerchief was me, Christopher Jones. I was aged 5 when it was taken having been born on 15 December 1946. My mother had the photo at home and it was always a talking point in the family that I would only sit on a white handkerchief at school. I must have grown out of the habit in later years because I don't remember actually having done so. Unfortunately, all childhood photos of me and my brothers Anthony and Stewart and sister Jennifer disappeared when our father died. I went on to have a very successful military career lasting from aged 15 to 50 years old and am now retired and living in Scotland. Chris Jones
My late Aunt was Ena Panter who later taught in Thanet. Does anyone know what happened to Doreen Masson?" If you do e-mail Ruislip Online
I went there in appox 1949 in the tin hut. We had speech lesson in a house on the other side of Bury Street. My niece also went to the Gateway School in the 60's.
I went to Tylney Hall School with the son Spishock (spelling?) in the late 50.s.
Chris James
I found mention of the Gateway School on this Ruislip website, and that people had added their memories. I don't recognise any names of the people who added their memories, but here are mine from the early sixties.
I went to Gateway in King Edward's Road, Ruislip, in 1962 when I was nearly 4. My sister, Fiona, came two years later, and stayed till she was 6. If I remember, we wore navy skirs/tunics, white blouses and red cardigans. To start with I was in Mrs Zucker's class in the downstairs left-hand room to start with, then Mrs Willard's (upstairs, above Mrs Zucker's class), and finally in my last year in Mrs Stevenson's - upstairs on the right. I have reports from all my time at Gateway. Mrs Stevenson was the Head Mistress, and as a previous contributor has said, married to a Polish man who I remember had a strange accent. I think their name was something like Lekowski, but it was felt to be too difficult for us little ones to pronounce. I don't remember their son, but he'd probably left home by the time I was there.
In my last year, there were 7 of us, I think, 3 girls and 4 boys. I remember Gordon Ross, Christopher King and Simon Hanhart, and a girl called Vanessa. I remember doing Christmas plays, and in my last year I was the Virgin Mary - there is a picture somewhere of me in a blue costume with red uniform tights underneath. At lunch times we played outside in the back garden of the house. Mrs Rowland (sp?) cooked the dinners, and on our birthdays she made a pink blancmange rabbit in a mould, served on "grass" of green jelly; if it was your birthday, you were given the head of the rabbit, and if you didn't like blancmange you could share the head with your best friend! For lunch, we sat at little tables in Mrs Zucker's room.
At 7 I left Gateway, and moved on to St Helen's in Northwood for the rest of my school days. My mother used to drive my sister and me over Ducks Hill to school every day, and sometimes we'd come back by tube, changing at Harrow-on-the-Hill.
Yvonne Sanderson (nee Kingsley Brown)
---
I have discovered the fascinating memories of fellow previous Gateway schoolchildren! I was at the school from 1946 to 1949. We lived in Stanford close, from where I walked each day usually with a neighbour; with my mum only sometimes. It was safe enough at age 5 in those days!
The photos in the big hall, on the stage, are very evocative, taking me right in there. Who is the lady The little wooden armchair is one of those we sat on to have lunch at little tables, in the small classroom on the right as you came out of the back of the hall. Sometimes we had rabbit for lunch My lessons were in the larger, lighter room right at the back. We had Miss Mallett, who was quite nice and not too intimidating. Mrs. Stevenson was kind but also well respected. She always wore a hat of some kind, I think. I too remember making patterns with coloured sticky paper, and using raffia. Somewhere I have a school report from there. I do just remember Spizoch....I think that is the spelling.
There was a very strict teacher called Mrs. Evans; I didn't have lessons with her but saw how she told off children who had misbehaved, and sometimes shook them! So I was suitably fearful. I remember her always wearing grey. A nice lady called Mrs. Waters came and did ballet classes, I think in my last year there. She wore glasses and always brown "slacks" as we called trousers then. Quite modern in those days.
I can't recall children's names except Brenda, a nice quiet little girl.
More memories might come back.
It's so interesting to read all of your memories. From Jasmine.
---
I was there from the age of about 3 ½ , in 1945/6 until we moved, from Hillingdon to East Sussex in 1949. I seem to remember there was a timber yard overlooking the back of the school and we had the most awful outside loos – a single, common entrance way with no doors – girls going to the left and boys to the right, with a large gap between the top of the walls and the bottom of the roof – to allow air to flow freely around, I suppose. It was always freezing in the winter. There was a small, tarmac, outside play area between the back of the hall and the loos.
My Grandparents lived in Sharps' Lane and I was collected from school each day by my Grandmother, who saw I was put on the correct bus, (by the parish church), to Hillingdon, with my Mother collecting me from the bus stop at the other end. (Can't see this being allowed today.)
It was lovely, friendly school, despite being very shabby, often cold and none too clean. Yes, it had a corrugate roof, painted green.
BTW there was a blacksmith's forge on the opposite side of Bury Street, and sweet shop just further along towards the town, (opposite the big pub), where they made their own ice lollies from fresh fruit juice. It was always an occasional treat to be bought one.
My other recollection is of a restaurant by the church – Pam's Pantry, I think - with its double set of wartime blackout curtains, inside the door. It always seemed to be very busy.
Ruislip must have been one of the first towns to have a forerunner to today's supermarkets. There was a shop called 'Pay and Take', which my Grandmother used frequently.
Finally, the Express dairy used horses and carts to deliver milk and I was sometimes allowed to 'help Charlie', my Grandparents milkman, as he made his deliveries in Sharps' Lane. I was always told to 'stop helping when their front gate was beginning to go out of sight'. Charlie always seemed to appreciate my efforts. On command – a whistle - his horse would follow him down the road keeping the cart close by until they reached Bury Street and that part of the round was finished. So sad to see that part of life disappear forever.
Hope this may be of interest to someone,
Richard Best
---
I am not sure how old the posts about the Gateway school but I was thrilled to see one contributor remembered my mother, Mrs Rowland, who was the school cook. I do not know exact dates but it was while I was at primary school myself so around 1959 to 1965 . As it was a small school and also Mrs Stevenson's home she prepared the meals in the domestic kitchen, something that would never be allowed these days. She also found herself having to clear up each morning after Mrs Stevenson's previous evenings culinary adventures ( Mrs Stevenson laid claim to Cordon Bleu standards but my mother was less than impressed with the amount of kitchen ware she found it necessary to employ!). On one occasion, returning to work after the Christmas holidays, my mother discovered the lid of the pressure cooker embedded in the ceiling , where Mrs Stevenson had decided to make stock from the turkey bones and then wandered off and forgot about it. She was quite 'flakey' and absent minded, my mother never really recovered from a trip in the car with her to the wholesalers where she drove the entire way up the wrong side of the dual carriage way!
Sick children were put in the morning room next to the kitchen on a little truckle bed for my mother to keep an eye on, and the naughty ones were sent to sit on the high stool in the kitchen.
Mrs Stevenson kept cats, there was a big black one called Sydney who was particularly fond of my mother and would lovingly lay mice fetched in from the garden at her feet, another thing that would not happen today, cats in a food preparation area!!
Irene Hawkins
---
I went to the Gateway when it was in King Edwards Road and I was 3. My mother worked and after my grandmother died, this was nursery childcare for our family. I was there until I could go to infant school ( BWI). I remember walking to it and being happy there but not much else. My only bad memory was with a rocking toy similar to the one in the photo, which if you look, has a short hard tail made of wood. Someone pushed me off the back of the rocking toy and the hard wooden tail gave me a nasty cut/graze as I fell over the back of it! Funny what we remember in life as that would be 64 years ago.
Jacqueline Allinson
---

Gateway, in the Methodist Chapel, was my first school about '39. I was in Miss Ridley's class in the back room and Mrs Lambert's class was in the smaller room on the right. Loved it! She also taught us French, with a textbook called 'Madame Souris a une maison.' We also had basic needlework and knitting.




Terry Quadling
---
I went to Gateway 1963 - 1965. I remember the names of Mrs Stevenson and Zucker but not what either looked like. I have a vague memory of climbing stairs to the 1st floor classroom, being told to have an early afternoon nap on camp beds, treasure hunts in the back garden and being put on the naughty stool in one of the classrooms. Now all very hazy memories.




Clive Summer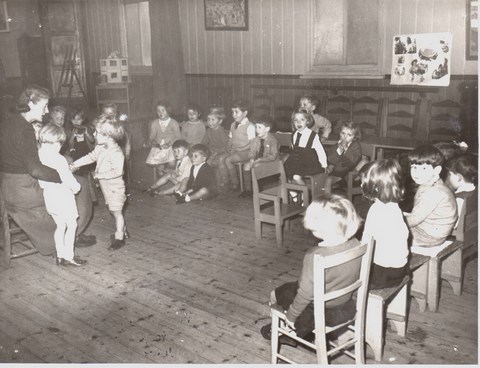 Left is a copy of a photo taken around 1952 inside the Tin Tabernacle aka Gateway School Bury Street Ruislip.

The photo shows myself and John Young sitting on the floor (he is on the left and I am on the right) listening to what looks like story time. I was 5 or 6 at the time. In the left back ground you can see the stage which took up one end of the hall.

Patrick Davies Perth Western Australia