Frank Allen of The Searchers
The Skyways Play The Clay Pigeon Eastcote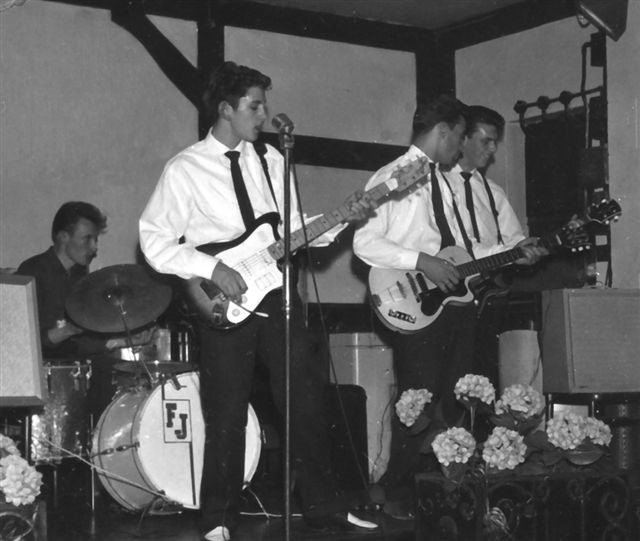 The Skyways playing at The Clay Pigeon, September 28th 1959. l-r Mick Burt, Frank Allen, Brian St George, John Marin. (Mick Burt eventually became the permanent drummer with Chas & Dave throughout their massive successful times and people will recognise him from their stage and television performances)
---
Frank Allen remembers The Clay Pigeon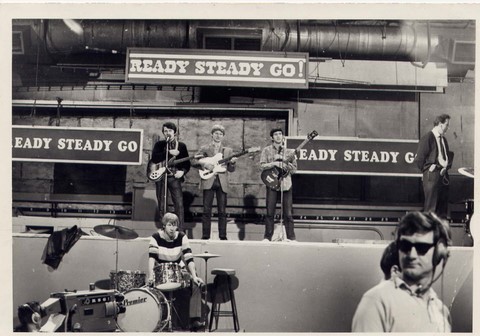 (Image:- The Searchers at a rehearsal for Ready Steady Go tv show 1966.)
I am Frank Allen, born in Hayes and currently living in Ruislip. For almost 57 years I have been bassist and frontman with The Searchers who most people will remember as one of the most important British groups of the mid sixties alongside The Beatles and others. (hits: Sweets For My Sweet, Sugar & Spice, Needles & Pins, Don`t Throw Your Love Away, When You Walk In The Room, What Have They Done To The Rain, Goodbye My Love etc)
In the late fifties my band The Skyways, a semi professional group based in the Hayes/Ickenham area, played many times at The Clay Pigeon in Eastcote alongside goups like The Johnny Rebs and Cliff Bennett & The Rebel Rousers who I soon went on to join professionally in 1961. It became an important breeding ground for many musicians who were late to achieve national and international success.

As one of The Rebel Rousers I played at the famous Star Club in Hamburg alongside The Beatles in 1962 which is where I made friends with The Searchers, a then pretty much unknown band from Liverpool. Following the unprecedented musical explosion created by The Beatles The Searchers soon followed them into the charts in June of 1963 with their first disc going straight to number one. A succession of chart entries, which included three number ones, continued over the next three years during which time I was recruited on bass by them in August 1964. I played bass and sang on eight of those hits, the final chart entry being in 1966. From that point we continued to tour on the concert circuit with huge success in the U.K, Europe and America right through to today.
---
---
Did you know that there are actually five web sites in the Ruislip Online group when Ickenham Online is taken in to account..

Brief details are show below. Some of the web sites are very large!


So, as well as the one you are looking now which is mainly historical pieces below are some other web sites about Ruislip that may interest you.