Embassy Cinema Ruislip
The Embassy Ruislip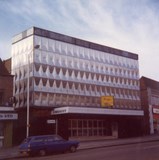 The Astoria Cinema was the second cinema to be opened in Ruislip where the first was the Rivoli. It opened on 24th September 1934 with Elisabeth Bergner and Douglas Fairbanks Jr. appearing in "Catherine the Great"(The Rise of Catherine the Great).

It was run by the Charles F. Cheshire group.

Like the nearby Rivoli Cinema, it was taken over by Shipman & King in 1935. The Astoria Cinema had a 38 feet wide proscenium which had attractive grilles depicting fishes swimming, on each side on the side walls.

The Astoria Cinema was 'modernised' in 1967 and had a distinctive metal cladding mounted on its facade. It was re-named Embassy Cinema from 30th April 1967.

The Embassy Cinema was eventually closed on 28th November 1981 with Dudley Moore in "10" and Goldie Hawn "Private Benjamin" being the final films shown. It was demolished in October 1986.

The new building on the site contains a MacDonalds Restaurant and an Iceland supermarket.

---
---
Did you know that there are actually five web sites in the Ruislip Online group when Ickenham Online is taken in to account..

Brief details are show below. Some of the web sites are very large!


So, as well as the one you are looking now which is mainly historical pieces below are some other web sites about Ruislip that may interest you.