Cineworld South Ruislip
Cineworld Ruislip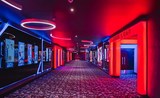 This cinema opened on 7th July 2017. It has 11 screens and will seat 1,745 customers.
It forms part of the re-development of the old Express Diary site which also includes a large Asda supermarket as well as several other smaller retail units where a gym and restaurants also feature.
---
Did you know that there are actually five web sites in the Ruislip Online group when Ickenham Online is taken in to account..

Brief details are show below. Some of the web sites are very large!


So, as well as the one you are looking now which is mainly historical pieces below are some other web sites about Ruislip that may interest you.