Bishop Winnington Ingram School School
Bishop Winnington Ingram School Ruislip
(Opening comments from a Ruislip, Northwood & Eastcote Local History Society publication from 1992)
SHORT HISTORY OF RUISLIP SCHOOL/NATIONAL SCHOOL/BISHOP WINNINGTON-INGRAM
by Celia Cartwright
HEAD TEACHERS 1890 - 2020
James B. Garrett April 14 1890 - July 1896

Charles Edwin Ratcliffe August 1896 - April 4 1899

Ralph Youens April 10 1899 September 1919

John Hough Chester October 7 1919 - December 1925

Arthur Smith 1926 - Easter 1927

Miss Beatrice Grist 1927 - 1931

Mr. T. W. Wilkinson 1931 - 1956

(Acting) Mrs. Lemmings 1957

Mr. R. H. Jennings April 30th 1957 - July 23rd 1971

Mr. D E. Knowles 1971 - 1993
Mrs Judith Dawson (nee Edwards) 1993 - ?
Mrs Hockley ??-??
Mrs Westbrook ?? - 2020

---


1812 14th September

Vestry meeting at St. Martin's Church. A committee set up to make arrangements for the provision of education for poor children. Thomas Gregory (the vestry clerk) offers to teach 20 children for £20 a year.Mrs. Seymour and Miss Goulding each undertake to teach 15 for £13.10s.

1846-7
National Society's Church School enquiry gives the Ruislip school as having 76 boys and 35 girls taught by a master and mistress at salaries of £40 and £15.12s.

1851 (Census)
Mr. Phillips in charge of the school. (He was also a receiver posts and Mrs. Phillips is listed as a sempstress.)

1864
The National Society (the controlling body of the Church of England Schools) opened a school in a permanent building in the Eastcote Road. It is known as Ruislip Church of England School.
1875
The school building is enlarged at a infant mistress is appointed cost of £158.

1890
Mr. James Garrett takes over as head with his cousin Mary Jane Chandler taking the infants and needlework. Log book commences.

1891
School pence replaced by Fee Grant of 10/- per year per child based on average attendance and the attainment of each
child.

1927
The school, much added to and in sore need of repair, seems likely to be taken over by the Middlesex Education Committee and thus lost as a Church School. Thanks to an undertaking by Laura Sawbridge to find the full sum to restore and improve the schools, the transfer is withdrawn.
---
Bishop Winnington Ingram School History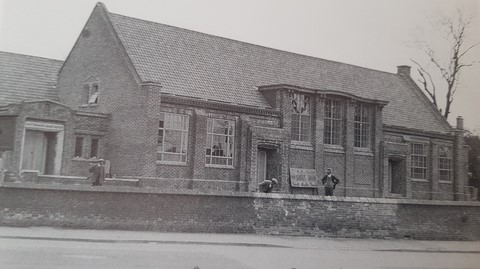 1931
A new school building incorporating a church hall opens May 11 on the Eastcote Road site. The new school is named Bishop winnington-Ingram. July 15. The Bishop of London, Dr. Arthur Winnington-Ingram dedicates the site.

1967
A new school in Southcote Rise is commenced.
1968
The new school opens with a service of dedication by the Bishop of London.

1973
Work commences on two new classrooms in front of the infant block Further storage space and the clifford Littler Room are
opened.

1981 11th May.
A 2-classroom block is opened by the Bishop of Willesden accompanied by Mr. Winnington-Ingram grand-nephew of the eponymous Bishop.

1991
15 Staff 370 pupils on roll.
---
Bishop Winnington Ingram School Eastcote Road

Recollections of Bishop Winnington Ingram School in the 'Thirties'

This school was at the site, now covered with houses, at the corner of Eastcote Road and Manor Way where it also served as the parish hall for St. Martin's church. The school was built, I believe, in the early Thirties and operated long enough for one teacher, a Miss Marchant, later Mrs Lemming, to spend her whole career there. After the main construction, two additional class rooms were added in a separate building. Altogether there were eight class rooms, occupied by classes numbered one to eight. Each class had about fifty pupils so the teachers had their hands full. Seven of the teachers were women, the majority unmarried as the result of so many of the men of their generation being killed in WW1.

Class 8 was entry level in which I started at age five, right after the Easter holidays in 1934. Three of the class rooms, 6, 7, and 8 were designated 'Babies'. Children in the Babies classes had their own entrance, playground and toilets on the south side of the school. Everyone else used an entry and toilets at the west end of the building and a playground on the north side overlooking Eastcote Road. An area of the playground against Manor Way was marked off for the exclusive use of girls. This right was jealously protected. Trespassing by a boy was regarded as a major offence.

Before starting school I was trotted off to Allingham's shop on the High Street to get kitted out with a red blazer with silver mitre on the breast pocket and a cap to match. I was ready to meet Miss Hill-Jones who ruled over Class 8. The class was streamed to accommodate achievements of children who had entered at different times throughout the year whenever they had reached their fifth birthday. About all I can remember of the class was that on being introduced to singing I was pronounced to be a 'growler' who would not be called on to participate. This aversion to singing lasted until my late teens when I discovered the joy of drinking beer with my peers and singing bawdy songs with words I am sure Miss Hill-Jones would not have approved.

A Mrs. Green ruled in Class 7. She was not certificated so was a hang-over from previous times when a teaching certificate was not required. Most of my year in this class was spent suffering and recovering from the various childhood diseases which we caught from each other. My best friend was a year ahead of me in school and developed a deep dislike to poor Mrs. Green. He persuaded me to spend a Saturday morning digging shallow holes all over the patch of ground at the intersection of Midcroft and Manor Way in the hope that Mrs Green might wander that way and break leg. Our efforts were not successful.

In the course of time I reached Class 6 which was ruled over by the impressive Miss Booth – a rather plump lady of diminutive stature who always wore either a green or blue dress of the same pattern with a piece of lace pinned across her neck. She also wore pince-nez glasses which wobbled to adjust to her slightest movement. Miss Booth was an excellent teacher but more prone to the practice the physical violence which was common at the time. She would thump and shake a poor miscreant for some undefined offence while her glasses oscillated violently but never quite fell off. We all sat mesmerised but the message was clear – sit still, don't talk and learn what she taught. I left Class 6 at age seven able to read well and write with an ink-charged, steel nib.

One of Miss Booth's duties as head of the Babies, was to administer to cuts and bruises resulting from falls in the playground. This she did with the aid of iodine kept in large blue bottle. Abraded knees were daubed appropriately without regard to the stinging sensation.

Miss Booth also took us for music. This involved standing around the piano in the hall while she pounded out hymns such as "All things bright and beautiful" in a thin piping voice while we did our best as we watched the pince nez glasses wobble in time with the music.

By now I had suffered from all the 'usual childhood diseases' so was attending school regularly. The only time off was a couple of days of stomach upset resulting from chewing the coating off what must have been laxative pills which my friend had found at home and brought to school for our combined pleasure. He disliked the coating but enjoyed the interior for its liquorice flavour. I simply passed the 'sweets' to him when I had sucked off the coating. He was still off school when I returned.

For some reason never clear to me, that while the longest time a pupil could stay at the school was seven years, there were eight classes, so somewhere everybody had to skip a class in order to end up in Class 1 where we took the famed eleven plus examination. So it was that I skipped Class 5 and started Class 4 which was taught by a Miss Brown, another excellent teacher, and so on to Class 3 where we were taught by Mr. D'Arcy Beazer. He was a charming man, devoted to teaching and none-violence. He was single and lived with a maiden aunt. He always came to school dressed immaculately in one of several suits and generally a bow tie. On occasion he sported a red patterned tie with a yellow tassel which was something new to me.

By the end of Class 3, the motivated ones amongst us were all aware of the need to learn all we could in order to pass the eleven plus examination. Other sides of school life had to be attended to. Our relation with St.Martin's Church was such that we started each day with assembly in the hall followed by religious instruction. We worked our way through the more popular bits of the Bible, learned prayers and psalms. The Rev. Barnsley, or one of his two curates would participate in this aspect. The idea was that we would be ready to be confirmed as members of the Church of England. Barnsley and his acolytes introduced a much 'higher' form of religious practice that was not favoured at home but I did not resist.

Tom Wilkinson was head master. He came from Cumberland and lived close to the school at 47 Manor Way in a detached house. The location was very convenient as it was about halfway between the school and The Windmill pub to which he would retreat most evenings. Mr. Emery, the caretaker, also lived on Manor Way but on the opposite side. He too would walk to The Windmill but always on the other side of the road from that favoured by Wilkinson. I suspect the two kept their distance at the pub by drinking in different bars but was too young to confirm this.

Just what Wilkinson did all day was something of a mystery. At the beginning of morning and afternoon sessions, the teachers were required to complete attendance registers, using steel pens and red and black ink, both carefully blotted. These registers were imposing books with marbled covers that were delivered by the 'register monitors' from each class to Wilkinson's office, where, presumably, he summarised the contents for some higher power while smoking cigarettes. The monotony of the job was relieved when he felt called upon to cane small boys sent to him for various offences. He was also a good teacher but only practiced on the rare occasions when one of the regulars was absent. He kept the canes and the registers in the same cupboard so you were never sure when he opened the dreaded cupboard whether you were 'in for it' he was simply going to retrieve a register.

Wilkinson, who was attended St, Martin's church regularly every Sunday, also conducted our morning assemblies. On special days, such as Remembrance Day, Dominion Day, royal occasions and such, we would come to school wearing uniforms of whatever organisations we belonged to. All the girls in each class would stand in a row stretching across the hall while the boys stood behind. The teachers stood to one side facing inward each armed with a hymn book ready to 'crown' anyone who stepped out of line by pulling a girl's pigtails for instance. We sang lots of rollicking, jingoistic songs, such as the British Grenadiers, while Wilkinson waived his arms in paroxysms of patriotism as he conducted us. On Remembrance Day, which we called Armistice Day, we would pause in our singing to stand silent for the minute while we listened to the field guns thundering away, I believe in Hyde Park. Following the advent of WW2 in 1939 other uses were found for the guns and the minute of silence was heralded by a blast of the 'all-clear' signal of the air raid siren kept behind the police station on the High Street.

When I entered Class 2, there was a shuffling of teachers and a Miss Anne Dann arrived to fill the position. Miss Dann was yet another devoted and accomplished teacher. She was an attractive lady with fair, freckled complexion and red hair drawn back in a bun. One of her favourite items of clothing was a gingery coloured tweed two piece which matched her hair. Later I was to learn that she had resigned from a previous job to take a year off to participate in a world cruise that was paid for by an unexpected windfall of cash. During the cruise she had formed a romantic attachment to a bachelor sheep farmer from Australia. She was torn but decided to return to the home in Uxbridge which she shared with her unmarried school teacher sister, and their parents. For me it was the right decision but she must have had recriminations. Miss Dann's tales about her travels had me entranced. I had never met anyone who had travelled the way she had. She also played the piano much better than Miss Booth and almost had me singing. A version of the Campdown Races that we sang was very racist but we just thought it funny. I did not see a black person until I was nine.

On one memorably day with Miss Dann, classes 1 and 2 went on a trip to London. Total cost was two shillings and we had to bring our own lunch. For his sum, those whose parents could afford to let them go, traveled by train to spend a morning visiting the Tower of London where we ate lunch on the grass, and then on to a ride on a paddle boat around St. Katherine's Dock, which was then full of ships from all over the world. Once back home we were required to write a record of our exciting day. Two years later, our paddle steamer surrendered its all during the evacuation of the British Expeditionary Force from the beaches of Dunkirk.

Finally I had reached Class 1. It was the autumn term of 1939 and war had been declared. The next few months would later be called the 'phony' war because nothing happened. At the time, we expected bombs to hail down on us. We had a visit by the Rev. Watkins who had been one of the curates at St. Martins but was now an army padre dressed in uniform. He was posted in France with the British Expeditionary Force (the BEF) the lucky members of which would soon be evacuated from Dunkirk. He told us of how he was posted on the French Maginot Line and showed us a medal which had to be shown to gain entry. We were all impressed. Nothing really occurred in the war until the following May when the enemy invaded France and the Low Countries by turning the French flank just as they had done in WW1 and the Maginot line was no more. None of us ever heard anything more about poor Rev. Watkins. Britain became within flying range of the bombers we feared.

At the beginning of the war, all we were required to do was turn up in the morning at school to collect work which we would take home. This practice soon stopped and we were henceforth in daily contact with the very impressive Mrs. Minet. She was undoubtedly the best teacher in the school, although Miss Dann, who would eventually take over the Class 1 job, came a very close second. "Minnie's" job was to get us through the eleven plus examination and on to one of the preferred schools of secondary education for which there was competitive entry. She drove herself as hard as she drove her pupils. The only time I felt she failed was when she was required to explain the significance of the Holy Ghost. Even to my immature judgement, she was finding the job hard.

Under 'Minnie", there was no letting up. For instance, there was a daily spelling test just before morning break, when we were served one third of a pint of milk. If you made one mistake, you had to stay in until you had copied the correct word ten times. Every Friday morning, right after the usual religious instruction, was 'test time'. The test consisted of a chunk of arithmetic questions followed by what she called 'silent reading'. This part consisted of a paragraph about ten lines long written on the black board that was mounted on an easel. After we had read the story, the board was reversed to reveal a series of questions about the piece we had just read.

Right after the lunch hour, we were allowed the luxury of reading any book we wanted while "Minnie" marked all fifty of the tests. About half an hour before 'home time' the test scores would be ready. We were all directed to clean out our desks ready to move. The top ten scores qualified for the row of better quality double desks in front of her desk with numbers one and two right in front of her. The rest were then placed in the order they had attained in the test. With everyone successfully moved, we would leave for the weekend. Instruction was 'streamed' according to groups of rows. This practice of shuffling seats went on all year so we all knew the meaning of competition!

After school, in the warmer months the Dominick ice cream van would be at the gate. The van was built as a box around a motor tricycle. The box barely accommodated Dominick and the lady I assumed to be his wife. The smallest cone cost one farthing but on the occasions when my mother met me, she would buy one of the deluxe cones for a halfpenny. Perhaps she did this as an example of motherly generosity, or was it to impress the other mothers with her affluence?

What of my fellow pupils? They came from all walks of life. Those were 'Depression' days in which nobody had much money but some were clearly more affluent. One boy amazed us all when he returned after the Easter holidays with a deep tan obtained while skiing in Switzerland. None of us even knew someone who had been out of the country for a holiday. Some children were withdrawn and placed in preparatory schools before moving to a public school. Others were clearly deprived. Sometimes a teacher would take such a child outside to be washed. Others smelled as if either they or their clothes needed washing. We were all treated the same by the teachers and were all examined regularly by the school doctor, dentist, and public health nurse (who looked for head lice, sometimes with success). At the end of the summer term of 1940 we each went our different ways, mostly never to meet again.

For me, the BWI experience got me off to a good start in life. Others, such as one boy who seldom made it out of the fifth column of desks in Class 1, rose to be managing director of a medium sized company so the selection process for success in later life was not without its deficiencies. For the most part we finished up merging into society. Among others, either in my class, or in ones a year or two before, BWI produced a leading artist, the managing director of a major UK company, and yet another who was elected a fellow of the Royal Society for his contributions to medical science. I am sure there are others. My lasting regret is the teachers who got everyone started on life's road were not still alive to see what their pupils accomplished. Mrs. Minet, might have been exception. She reached the age of sixty in 1940 and retired. For the next thirty years she was to be seen shopping on the High Street, her once straight back now doubled with arthritis, but still ready to give an opinion on any matter of the moment.

Brain Hester May 2013
---
BWI School | Ruislip
Life at Bishop Winnington Ingram school in the Thirties

At the end of the Spring term in 1934 my friend, who had started at BWI at the beginning of that term, arrived at our house with the news that I was to start school at the beginning of the next term. So it was that I began at the beginning of the Summer Term in 1934 right after my fifth birthday that I started in class 8 under Miss Hill-Jones. The school had been built to accommodate six classes arranged around the hall which also served as parish hall for various functions. Just before my arrival, two extra class rooms had been built as a separate building – the new buildings.

Pupils, as we were called, progressed through the classes from 8 to 1 (about fifty to a class). Somewhere along the line we skipped a class in order to finish in class 1 in time to take the famed eleven-plus examination. Classes 6-8 were grouped in adjoining rooms separate from the rest of the school in what was called "the babies". The babies section was ruled by a Miss Booth who also taught class 6. They had their own playground and toilets (the "offices ).

The arrangement of classes meant there were eight teachers. The headmaster, Tom Wilkinson only taught when a teacher was absent. I have no idea when he did except sit in his office, and smoke cigarettes while pouring over the attendance registers. These books were large tomes with marbled covers which class monitors had to deliver to Wilkinson upon completion every morning and afternoon. The names of everyone in each class were listed in alphabetical order. A black stroke was entered against the name of everyone attending – except when they were late and got a red stroke. Absentees earned a black circle. The entries were made in ink using pens with steel nibs. The registers were a work of art and were made up at the beginning of morning and afternoon classes. I suppose summarizing the registers and chasing up absentees etc kept Tom busy..

What today would be regarded as physical abuse was a regular teaching tool of most of the staff. It took the form of shaking, slapping and thumping according to the choice of the teacher. Wilkinson had a cane which he would administer in the privacy of his office as occasion demanded. He kept the canes in the same cupboard as the registers so if he judged the transgression simply merited a scare he would put a couple of registers away while uttering a severe talking to to the culprit. Generally being sent to Mr. Wilkinson was an exercise to be avoided. In the babies section, offenders would be sent to Miss Booth. She had no feeling of restraint and would thump and shake the offenders in front of the class while we looked on in shocked amazement wondering how her penze-nez spectacles remained on her nose. Miss Booth was short and rotund and invariable wore either a green or blue dress of the same design with a modest piece of lace at the neck. She was an excellent teacher but demanded full attention! She treated cuts and scrapes for the whole school with a large blue bottle containing iodine. There were no bandages or plasters! The stinging sensation of iodine on raw flesh on a cold day is best left to the imagination.

The first class of ever morning was devoted to religious knowledge. All this was new to me as I came from a home where the subject received little attention. Of course I had lots of questions but thought it best not to ask them in case they should bring on an attack from Miss Booth. Lines in hymns such as "there is a green hill far away without a city wall sowed the seeds of disbelief. By the time we reach class 1, we had learned all that was needed to be confirmed as Anglicans. Instruction from the teacher was often supplemented by visits from various clergy in the shape of the vicar Rev Barnsley and his curates Nicholson and Watson. .

Barnsley was very high church . He had a wife and large family of small children. Mrs. B. was wealthy (some said she was related to the Woolworth family). In any event there were sufficient funds to rebuild the vicarage. Barnsley eventually moved to a place where he was killed in a fall from a tree he was pruning. The curates disappeared in 1939 with the beginning of the war. Watson emerged for a single visit to school in the uniform of an army chaplain. He showed our class the medal he had to wear as a pass to gain access to the Maginot line in France. Within weeks of the visit, the line was over run by the Germans and we never heard of him again.

Assemblies in the hall were frequent. Girls and boys for each class were separated into rows of about 25 each with girls in front. Our teachers stood in a line at the end of the rows with hymnbook in hand ready to charge down the row to clobber anyone who misbehaved by pulling pigtails, or similar offence. Sometimes Barnsley would run the assembly but generally it was Wilkinson, himself a pillar of the church, would lead whatever was going on while either Miss Booth or Miss Dann would play the piano. Miss Booth would sometimes sing along with a tremulous falsetto voice accompanied by wobbling of the penze-nez glasses. "Chosen ones" who could read music would turn the pages of the music.

Certain occasions called for special assemblies to which those of us who sported uniforms of Brownies, Cubs etc would wear to school. Two such occasions were Remembrance Day and Empire Day. On Remembrance Day we paused for the minute s silence and listened for the guns in Hyde Park firing off the salute. Both Tom Wilkinson and D Arcy Beazer, the only male teacher, were veterans of the war. Many of our teachers were spinsters and of the age group that had lost so many men in the war. I am sure the period of silence was full of meaning to them all.

Empire Day was marked with a lot of singing, much of which we practiced ahead for weeks under the tutelage of either Miss Dann or Miss Booth. One favourite was the "British Grenadiers" with its opening lines Some talk of Alexander and some of Hercules, Of Hector and Lysander and such great names as these. We had no idea who they were but dutiful sang along while Wilkinson attempted to conduct by waiving his arms in time to the music in paroxysms of patriotic fervour.

Similar assemblies were held to mark the Silver Jubilee of George V and Coronation of George VI. I believe we were served fizzy orangeade and cake on both occasions. For the coronation we all trooped to the Rivoli cinema to see some silent films of Charlie Chaplain's and an exciting one of current interest of the first aeroplane to fly over Mt. Everest.

One day I caught sight of a cleric wearing bishop s britches entering the school. This was the eminent Bishop Winnington Ingram after who the school was name. Just what the purpose of his visit was, was never explained. There was no assembly to show him off.

Everybody spent their last two years at the school in classes 1 and 2 where we encountered successively Miss Anne Dann and then Mrs. Minet. Both were excellent teachers without the need for much physical contact. Both had presence but Minnie had more of it. Together, their job was to get as many of us possible through the eleven-plus examination that was held towards the end of our last term. They wee both dedicated.

In Miss Dann s class we went on the only outing held during my time at the school. About forty of us (some of the class did not go because the parents were either unwilling or unable to fork out the two shillings) spent the morning at the Tower and then after sandwiches on Tower Green, went on a paddle steamer tour of the St. Catherine s Dock. During lunch, one girl wandered off not to be missed until Miss D made a head count. Her momentary panic was eased when the wanderer returned in time to receive a smart smack over the head not far from the spot where Henry VIII s chopping block once stood. Recollections of the trip were the subject for several composition exercises afterwards, but we avoided mention of the lost girl episode.

Minnie taught by trying to imbue us with the spirit of competition, which after all was the basis of the eleven-plus exercise. She had the class divided into three. The chosen ones sat in a column of new desks in front of her table against the windows. The middle group sat in the body of the class while the also rans sat in a row against the far wall. For some subject matter, she would teach each group separately. Each Friday morning she gave us all a test consisting of problems in arithmetic and composition. For the composition test, we were required to read a short story that she had written on the back of blackboard while we were out of the room. Once the board was turned over, we had five minutes to read the story before she turned the board over and we had to answer a bunch of questions that she wrote on the board. She marked the tests during a period of silent reading right after lunch and concluded the day by announcing our marks. Before leaving for the weekend, we were required to move so we would be sitting in the order dictated by our new marks, and to clean out our desks accordingly. There was no letting up for whole year.

Insofar as she got excellent results from the eleven-plus examinations, Minnie s system worked well but some children had a hard time handling the stress of all the testing. One boy, who seldom left the ranks of the "also rans" finished up in Canada where he founded a very successful business, so the system was certainly not perfect.

Mrs. Minet's husband taught at Bishopsholt. Her daughter was also a teacher but I am unsure what the son-in-law did. All four lived together. Her back stooped by arthritis and at an age of over 90, she was still to be seen on the High Street ready to give her opinions on political matters. Had she not retired in 1940, when people's minds were directed onto more pressing matters, I believe she would have qualified for an MBE. Among her pupils I know of are an FRS and leading oncologist, a former deputy chairman of British Aerospace and two who became eminent as teachers of foreign languages at public schools. All got their initial push into life at BWI.

We seldom met foreigners of any description and when we did, they were regarded as a great oddity . When we came out of school one day in 1938, we were surprised to find a well-dressed black man standing across the road. He was the first of his race that I was to see. Many years later I heard he lived in Ruislip and was a surgeon in a London hospital. Not much earlier than this incident, I was spending a weekend with relatives in a market town in Oxfordshire when we found the playground we favoured was full of children evacuated from Spain who had been evacuated to England during the civil war. We beat a rapid retreat! This was the first time I had heard anyone speak another language. In the summer of 1940, when the German army occupied the Low Countries, there was great influx of Belgians into Ruislip. My mother was in the WVS (Women's Volunteer Service) and was commissioned to go from house to house to arrange accommodations. Sometimes I went with her and recall one of the questions was 'do you speak any French?' We were duly amazed on the rare occasions that we found someone who did. The Belgians came and stood around in small groups for a few weeks before leaving. I have no idea where they went. One or two stayed and their children were absorbed. They did well by helping us with French homework but the help was always detected because the vernacular spoken in Belgium is not the same as the French we were taught!

BWI was the only council school north of the Met line so some children, such as those living near the reservoir had to walk a mile or so each way to and from school. In the thirties there was a lot of poverty. Some children came to school in tattered, smelly clothing while others came well-dressed from expensive homes such as those close to the woods. I remember teachers taking one or two children out of the class to wash them. At the time there were many private schools offering alternative education to those who could afford the fees. Even so, many parents who could have afforded private schools, chose to keep their children at BWI so we were all exposed to the various levels of "haves and have nots" . Those were the days when the lucky ones had a holiday of one or two weeks in a boarding house on the south coast. We were all amazed when one of our number was taken to ski in Switzerland for two weeks! We actually got to meet someone who had been abroad. How times have changed.

Brian Hester, June 2012
BWI School/- Cont.
We used to have a message board for this school on here but it was little used.
The messages that were placed on there are below and if you would like to add to them just
contact me
and let me have your comments and I will add them to the page here.
1950-55
Who remembers Mr Dobbs and his Austin ten? Mr Emery and his piles of coke. Mr Wilkinson puffing on an ever present cigarette and Mr Cotterall and his bike? Apparently he lived in High Wycombe and caught the train to West Ruislip station everyday and rode his bike from there to B.W.I! I remember playing a trick on him that backfired .My older brother told me to put the bucket of water, he kept for refilling our paint pots, behind the door so it would go flying when he barged through the swinging doors. It worked a treat! However,I was forced to own up and was sent to stand outside on the steps. I guess boredom set in and with the aid of a hairpin I found I inscribed in the brickwork "Cotty has a spotty on his botty"! Again I was caught and remember being marched up the stairs to see "Wilco" Standing outside his office ,close to tears,my brother Michael, took great delight in telling me I was going to get "six of the best"!!
I also remember Eizabeth Thompson beating the snot out of me (I think this traumatised me for the rest of my life!) outside Mr Danns room
Dave Golding
Class of 72
Anyone out there from that time - I know that there were a few get togethers in the mid nineties - organised by Tim Hughes, Wendy Pockett, Allison Campbell and Gwyneth Jones - I was working abroad at the time so missed it - was mailed some of the photos and then promptly lost the address list to contact people that came with the pics.
So, happy days - and looking to see if anyone is out there who had any reminiscences of the place. Seems to be doing rather well I have to say.
I recall being in deep trouble for the great Romans versus Britons debacle of the Maiden Camp visit on the Lyme Regis trip - kids were amused to hear the tale - and yes, I am sure that the summers then were endless days of sun and Ruislip was not clogged with cars and the walk up Burty Street was hard going - but the River Pinn was always deeper than the tops of your wellies and Mr Cotterill the best introduction to science you could ask for.
Chris Johnson
Those were the days
I'm really confused by all those smileys! I was at BWI a few years ahead of David Mayne - from 1934 - 1940 and remember Michael Dobb and David Hood very well, mainly because I was a contemporary of their older brothers Victor and David. I also remember Johnny Fallis who had a younger brother in David Maynes group. The last I heard of Johnny was when his pub in Inniskillen in Northern Ireland was blown up. Beazer was a good old boy - a very dapper dresser. Always in a suite with a paisley bow tie and matching handkerchief. There were some great teachers, especially amongst the women. I remember especially Miss Dann, Mrs. Minet, and Mrs Brown (left to become a head somewhere, as did Beazer). They were great examples for the modern teachers to study. They had to control classes of about 50 of us, boys and girls, from very mixed backgrounds. Some of the poorer children were very deprived. I recall Mrs. Minet taking one girl out to be washed. The school nurse who came regularly to check us for head lice used find the occasional positive. In my ignorance I thought she was looking for dandruff!
At the other end of the scale were children whose parents, even in those depression years would take the family for Easter ski holidays in Switzerland. The only back-up the teachers had was "pop" Wilkinson who, as head master kept a pile of ultimate deterrents in a cupboard in his room, and Mr. Emery the caretaker who would answer the call when someone wet their pants or were sick in class and a clean up was called for. Either was a great distraction from whatever work was supposed to be going on. Miss Booth could always be relied upon to administer a sound thumping to anyone in the lowest three classes who stepped out of line. I was always intrigued to watch this procedure as i could never understand how her pince-nez glasses stayed on. About half my class was swept away to Hillingdon isolation hospital for a month to recover from scarlet fever. It was the first time any of us had been away from our parents. We all seemed to have a pretty good time when I look back on it. I know I learned a lot of words I never heard at home! We were all forbidden to go through a door at the end of our ward until called to do so. Nobody ever came back. We all speculated what went on when you went through. It was to door out. All that happened was a final bath, new clothes then meet mother for a tram ride into Uxbridge and the train home. I've lost touch with nearly all my contempories and sometimes wonder how life treated them.
Brian Hester
Name: David Mayne,
Born: 19Sep 1932 Cowley Road, Uxbridge. 1933: Clyfford Road, Ruislip Gdns. 1936: Elmbridge Drive, Ruislip. 1937: Bishop Winnington Ingram School. 1943: Ruislip Manor Modern Secondary School. Teachers during my stay: Miss Dann, Miss Mitchelhill, Mr Beeza,
Mrs Lemming, Miss Cassie, Mrs Green, Mrs Booth, Caretaker Mr Emery,
Remembered students: Raymond Auger, Tony Back, Tony Branfield, Brian Boucher, John Collett, John Emery, Dennis Fry, David Fallis, Brian Holdsworth, Keith Ive, Francis Lester, Reggie Mansell, John Smith, Norman Stairs, David Hood, Michael Dobb, Barbara Coster, Zena Hoskins, Frances Lester, Rita Main, Joyce Marshall, Mary Madison, Susan Munro, Judith Piddington, Pauline Saunders, Stella Shipway, and Joy Woods.
(David Mayne has now died (ROL))
Lived in Broadwood Avenue 1946 - 1955, A pair of red headed twin girls. Jennifer & Margaret Shaw, Went to Bishop Winnington Ingram School 1948 - 1955, Teachers remembered: Miss Dann Class 1, Miss Morton Class 2 (she smacked me for getting a sum wrong), Mrs Barnsley? Class 3.
Mr Cotterill Class 4. Mr Hall Class 5. Mrs ? Class 6 , Mr Wilkinson - head. Can see his glare now as I once stood on the stairs outside his office.
Who does not remember Mr Cotterill? Schools would be better off with a few more like him. I don't remembering him shouting, just a voice dripping with withering scorn. Probably a very nice man.
I was at BWI 1955-61. My memory's pretty awful but I recall teachers Lemming, Cotterill & Wilson though not in much detail (just a general fear of Big Adult Teachers that today's primary school children would find laughable). I also remember classes of about 50 - but a lot of us went to excellent schools so they must have got things right. Some remembered friends and/or fellow pupils: Geoffrey Scott, Duncan Weir, David Lawson, Timothy Woodnutt, Ian Cantley, David Zucker, Helen & Ann Zigmund.
Roger Williams
At last, somebody who is approximately my age. I was at BWI from Sept 1954 to July 1960, so am about a year older. Although I don't remember your name, three of the names you mention I do remember - the Zigmunds and Ian Cantley, although it was his older sister Jean who was in my year. The Zigmunds were also in my class. My name then was Maly and I was usually called Pat and not Tricia. Some other names you may remember are: Philip and Melville Peel (twins), Lynne Piddington, Rosemary Starr, Carolyn Wintle, Trevor Sharot, Jill Norris, Frances Moon and there was another set of twins - can't recall the surname at the moment, but one was a Geoffrey. Do any of these ring any bells? I don't remember the classes being that size - shall have to have a rummage for my reports and see what sizes they were.
Tricia Campbell
What an excellent memory some of you have. If Tricia hadn't mentioned mine it would not have popped up in Google and I would never have found this forum, long after the schoolhouse was demolished.
I was at BWI from 1955-1960, then went to Vyners Grammar as it then was. The rest of the next 47 years can wait for another post, except to say that I have lived in Singapore since 1993, working in market research.
Trevor Sharot
---
BWI School/- Ruislip

Brian Whitehead

At BWI (1943 to 1949)

Lived at The Ridgeway

Memories of the infants

Classes 8 and 7 were in the building at the back of the main school. There were 50 to 55 pupils to a class. I remember teachers Miss Morton and Mrs Green and there was a student teacher. Mrs Green seemed very ancient to us but was very handy with the ruler for misdemeanours. It was wartime and there were no pencils or paper for us pupils just slates and chalks. If the siren went we were crowded into the cloakrooms which were reinforced with timber. They would have protected us from shrapnel but would not have been much use against a direct hit or near miss. Mr Emery, the caretaker stacked up the crates and handed out at our morning break bottle of milk and regularly stoked up the boiler fires from the big coke pile close under headmaster Wilkinson's window that looked out over the juniors playground.

The Juniors

I entered the juniors in Class 6 taught by Miss Dann, jumped Miss Cassie's Class 5 to Class 4 Mrs Lemmings, a very competent and popular teacher. By this time the war had ended and there were no more sirens but it was quite a while before things started to improve. Mr Cotterill (or was it Cottrell?) taught drawing and art as well as being Class 3's teacher. He also drew cartoons for the Punch magazine. We would go to his classroom which was on the stage once a week. I jumped his class to Miss Mitchelhill's Class 2. She was a delightful teacher who we all adored and one day she took us on a trip to London Zoo. We left her class reluctantly, but joy, Mr Ward had arrived to take over Class 4 so we now had that nice Mrs Lemmings again, this time in the top class 1, and her firm hand guided us through those 11 plus exams.

Mr Ward looked after the boys sports afternoon and would march us down to the Kings College Playing Fields. The best players had school supplied shirts which had to be taken home and washed after each match. I did not reached those heights and kicked about with the hangers on. One afternoon I was promoted to the proper match but disgraced myself by putting through my own goal. I learnt some new words from Mr Ward!

Once a term the Juniors were all marched down Eastcote Road to the Parish Church for our own service. With one teacher to 50 pupils it did not meet modern standards but we were all well behaved and obedient to the whistle. In those days of post war economy all the boys wore shorts so all I remember is that the stone floor was very hard and cold for the knees.

By this time I was old enough to realise that it was Mrs Lemmings who exerted the greatest influence over the running of the school abetted by Miss Mitchellhill. A lasting memory of that final class was the Christmas play, 'Toad of Toad Hall' put on for the rest of the school in the hall. Much rehearsal and work went into the preparations. Came the afternoon and Toad miscued and we had jumped over half the play. So we did it all again this time perfectly.

So in 1949 it was off to Harrow County School for Boys and I would come to realise how well I had been prepared by all at BWI!
---
FINALLY there is a very detailed web site