Bourne Senior School
Bourne (and later known as Southbourne) School Ruislip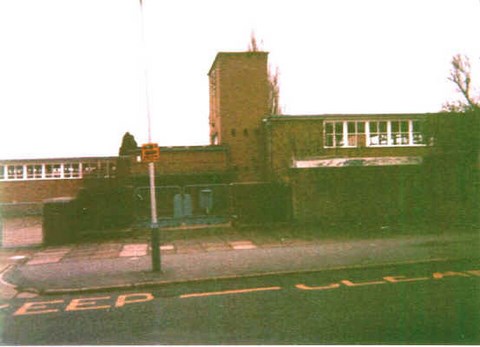 (Opening comments from a Ruislip, Northwood & Eastcote Local History Society publication from 1992)

The Bourne Secondary School situated on the Edge of Northolt Airfield opened on the 29th August 1939, with 406 children, 14 teachers, two caretakers and six cleaners. Many rooms including the gymnasium were still in preparation, but this hardly affected the pupils as they were sent home on the 3rd September precautionary measure during the national emergency and the buildings were taken over by the RAF for the duration of the war. The pupils enjoyed an extended holiday until 17th October then started attending tutorial classes at Manor Secondary Modern School, but only once or twice a week. On 5th December the Bourne School assembled at the Manor for three full day sessions, alternate days being worked including Saturdays. The two schools worked together on the same premises for nearly two years, 12th September 1941, when the Bourne took over the junior floor of Ruislip Gardens School, staying there until October 1946.

During the early days of the war the school log notes a procession of male teachers being called up for active service. Mr. G. Cryer, an original member of staff was commissioned in the RAF on the 26th August 1940 and killed in action on the 11th June 1942. A service to commemorate the third anniversary of declaration of war held on 3rd September 1942 was also a service for him.

The original school buildings were handed back to the County Education Authority on 1st June 1945 and a few months later taken over by BOAC, it having been decided to erect a brand new school on a site in Southbourne Gardens.

The new school opened on 5th November 1946. It was a showpiece exemplifying all the ideal requirements of a secondary school as laid down in the Education Act. The buildings were still incomplete, but rooms had been taken into use by Christmas.

The school increased in size and an upper school centre opened in 1971.

A new name, Southbourne was given to the school in 1976, though there is no explanation for this in the log books. In the 1980s school rolls began to fall. There had been 894 pupils in 1978 with 71 in the sixth form, but by 1983 only 625, though still 70 sixth formers. On 10th April 1984 the Director of Education visited the school to announce a decision by the Secretary of State for Education that Southbourne should close in 1988. This seems to have been the death knell of the school. The headmaster left in July and many children were withdrawn by their parents. There was no new intake in September and the new academic year saw only 237 pupils. Mr. Everest-Phillips was appointed acting head.

July 1985 saw Mr. Lyn Jones, Director of Education attending a farewell party of the many staff who were leaving, where he spoke words of encouragement to those remaining. 68 pupils returned in September and the Governors decided to close the school two years earlier than planned in July 1986.

The remaining entries in the log are rather sad ones, as the equipment was dispersed to other schools and staff left. Only the goldfish in the lily pond remained on 21st July. They were going to Haydon School and had to wait for a new pond there to be ready. Perhaps Mr Everest-Phillips closing entry in the log books best conveys the atmosphere then prevailing.

"This not with a bang, but in more muted murmers - certainly not with a a wimper, Southbourne School has ended its years of service to the local community.

"Forsan et haec olim meminisse juvabit". Virgil.
(Perhaps someday it will amuse you to remember these things.)

The school was demolished and a housing estate now stands there, where live children and who need a school and so Ruislip High was built in Sidmouth Drive.


Bourne Junior School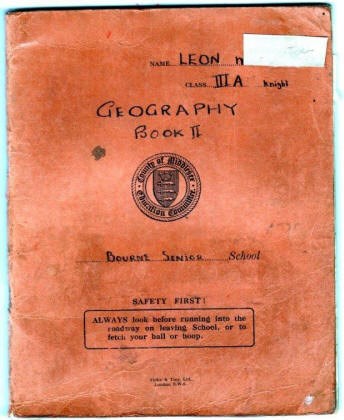 Comments from a former pupil
This is the Bourne that was in operation during the war years at Ruislip Gardens, based in what is today Ruislip Gardens primary school.. I attended during the 40s and left in 1945.
The Headmaster at that time was Mr G,G.( Horsey) Walker. Other teachers were Mr Tibbles a very big man ,ex Army Sergeant Major who always walked the school with a cane tucked up his sleeve. He taught maths and music. Mrs Tibbles his wife who taught English Literature. Mr Griggs. Sport. Miss Milburn who took P.E. The boys eyes used to pop out when she appeared in her shorts. Mrs Gould who taught Art, Mr Omant? who taught science and always nodded off during lessons and Miss Warner who claimed she could always tell who was playing up when she was facing the blackboard, as it showed in reflection on her glasses. She was a dead shot with chalk that was thrown at the culprit.
Other memories were diving for the air raid shelters when the air raid siren sounded. They were more like concrete tunnels with wooden seating. Many hours were spent in them and taking classes was very difficult. There was no facilities for the boys to take woodwork so once a week we had to attend the Manor school where they had a woodwork class set up. The Master was Mr Cox a very religious man who gave us a good half hour of scripture before the carpentry lesson, In those days during the playground periods the favourites were Five Stones. Conkers (in season) marbles and a fairly dangerous game called Bung the Barrel. I might add that at that time we were 60 in a class which was hard on the teachers.
The picture above is that of an exercise book (now over 60 years old) that I was issued with as were all pupils.

They were all the same and each subject was written on the front. The word Knight referred to the house we were in. The reason for various houses now escapes me.
---
Hi my name is Ken Lambert my twin brother Ron and I attended Ruislip school in Ruislip Gardens from just after the start of the war and we left to go to Acton Tec in 1945. We graduated from Acton Tec in 1949.

There were two pair of twins at the school at that time, us and the Jones brothers, we were the active and troublesome twins and the Jones boys were the nice quiet ones.

I remember well Mr Walker the head, we were caned by him often. He always carried his hankerchief up his left sleeve and I remember the light on his study door that said "Come IN" when we waited warming our hands on the radiator waiting to be caned. At assembly in the mornings he used to get quite angry and conducted the school with great gusto whilst we sang. I also remember Tibbles and his wife she would send us to her husband to get the cane. We ended our last year taking extra paid private lessons at Mr.and Mrs. Tibbles' home. We were their Nice students then. Our Mum and Dad paid well for our move to Acton Tec.

We also remember Mr Griggs who took us for gym and maths he used to wear baggy Grey pants and his legs were sort of double jointed so his calves stuck out at the rear of his legs.

My twin Brother Ron and I were always getting in to fights and after getting one beating too many we decided to arm ourselves with a sports sock each containing large pebbles as a weapon. We carried them tucked in our shorts.


Names of the Class Mates I remember well at the school: Billy Gunter who was a bit of an actor and was in the school play, Bobby and Pat Hase, Johny Bell, Eric Cook, Ronny Davies, Regie and Vicky Crawford.


Ken Lambert
Victoria BC Canada.


---
There is a gallery...
...of pictures from in and about this school here.