USAF 3rd Air Force South Ruislip
USAF 3rd Air Force South Ruislip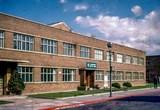 Many years ago South Ruislip had an USAF base, situated just off Victoria Road where the likes of DFS and Curry's stand today (2004). (Official history heavy going stuff) Where was it? Well if you look at the map here (opens new window) and look for "Civic Way", then that is where it was, in a nutshell.
The questions of "What happened to it" "What is there now" and "Does anyone know Jim who was station there in 1964" come up on this site quite regularly.
In order to address this problem Ruislip Online invite Jim, and all his comrades from around the world to share their memories of the base and Ruislip itself and contribute to this page.
This is best done by sending Ruislip Online an e-mail with your thoughts. If I think I have to I might edit them and either put in this section, or just used as a source of information about this area of Ruislip.
The initial plan was to simply post copies of e-mails from people who were stationed there in the hope that this will lead to other people sending their thoughts and so on, until a picture can be built up. However, such a number of people have written in that this is now having to be fragmented.
This whole section can now be found on the main Ruislip Online web site
here
---