10 Joy Ruislip Manor
10 Joy Ruislip Manor and also The Manor pub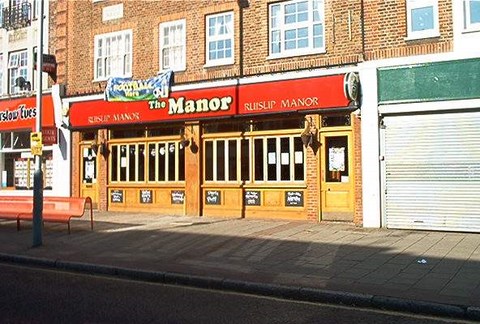 Closed down in July 2004 and was split in to two units where one side became Hennessys
---
Situated in what was Ruislip Manor's branch of Nat West Bank, formerly The District Bank and Redstocks DIY, The Manor, formerly 10 Joy, formerly Churchill's has not been a roaring success.
It has tried to offer what Moons, only 200 yards away, offers, with extras such as music and big screen TV but, sadly, has failed.
Opening initially as The Churchill (and having his famous quotes painted inside on the walls, where one of them was hilariously misquoted) it was a hit to start with, but never maintained its opening successes.
Sold in around 1999 and totally refitted it re-opened as the strangely named 10 Joy again initially it was a success (though it was rumoured that on its opening night they paid "rent a crowd" to attend) but this initial flurry of success has now died off. "10 Joy" then often referred to the numbers of people in there en(joy)ing a drink, and some nights is a blatant exaggeration. A shame as it offers all the usual pub "things" including juke box, pool, big screen TV etc. Changing it's name to The Manor (not such a good idea considering there is a "Manor House" just up the road in Eastcote) in 2003 the path it treads seems to be much the same.
Where was is, by road
In Victoria Road near the railway bridge. Find the lights at the top of Ruislip Manor, turn down under the railway bridge and it is on the right 100 yards under the bridge. There is no car park, street parking is the best option, but there is a pay and display behind Budgens, almost opposite.